How to Find Courage When You're Filled with Fear - iBelieve Truth: A Devotional for Women - April 22
How to Find Courage When You're Filled with Fear
By Keneesha Saunders-Liddie
When the wicked advance against me to devour me, it is my enemies and my foes who will stumble and fall. Though an army besiege me, my heart will not fear; though war break out against me, even then I will be confident. One thing I desired of the Lord, that will I seek after, that I may dwell in the house of the Lord all the days of my life to behold, the beauty of the Lord and to inquire in his temple. - Psalms. 27:2-4
When David penned this Psalm, we don't know if he was surrounded by his enemies or if he was reminiscing on an occasion where he had been surrounded, but let's imagine his foes had finally caught up to him and he literally had nowhere to go.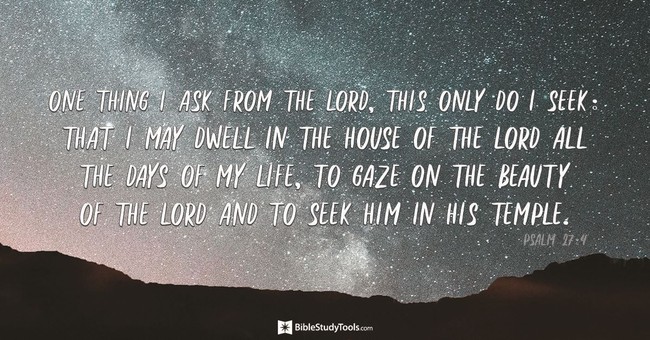 I can picture him writing these words by candlelight on a scroll, as he thought the end was near. In other passages, he had wished evil on his enemies, but here David was unafraid. He recognized God was on his side.
Our focus today is on the one thing he desired. Although he was surrounded, when hope felt far off, his desire was to be near to God.
During those days, the temple was the place where God's spirit dwelled. It was there David wanted to be so he could bask in his presence. The temple had a special candle that had to be burned morning, noon, and night. The light represented the presence of God. It was a priestly duty to keep the candle aflame all the time.
David looked at death and realized what was most important. Notice that he was going to seek after the one thing that he desired. It is no wonder that he was known as a man after God's own heart.
How is it with you, my friend? What holds top priority in your life? Do you examine yourself often so that you're in good communion with God? Do you bask in his presence in your life?
Right now, the world filled with uncertainty, fear, and anxiety because of the coronavirus. As believers, we can get caught up in the hype, or, we can be determined to focus our minds and gaze toward the better thing. There will be more to come after the coronavirus dies down. We should be drawing closer to Jesus. Peter wrote that "the end of all things is near" (1 Peter 4:7). How much truer are his words today! Sisters, Jesus' return is "closer than when we first believed" (Romans 13:11).
Therefore, let's fix our focus on the beauty of the Lord. When we do so, our own countenance is affected. Spending time in prayer, bible study and meditating on God's Word causes the gospel to become more attractive. When Moses came down with the ten commandments, they notice that he was shining and fair. It was because he had been with God - once you spend time with God, it will be visible to others.
This world is not our home, we are all just passing through. Spend time with God and his people. Share Jesus with those who do not know him yet. There have been many times in my life when I have been afraid; I can be shy and fearful. But I've come to realize God is in control of everything, and he won't let anything happen to me that he doesn't allow. Just like David, when my gaze is fixed on God, my fears are lessened, and my courage is strengthened.
---
Keneesha Saunders-Liddie is a writer, avid reader and Jesus lover. She recently started a blog Women Loving God's Way to encourage women to show Christian love to others and to share biblical counsel with anyone who needs it. She firmly believes that the bible has the answers to everything that pertains to life. She is a wife, mother and student. You can connect with her on Facebook and Pinterest.
For More Great Resources for Women, Visit iBelieve's Faith Channel.
Join licensed therapist Carley Marcouillier on Therapy + Theology each week as she tackles a common question related to therapy, mental health, and faith.

Listen to an episode right now by clicking the play button below!