Seeking God with All Our Hearts
By Tiffany Thibault
You will seek me and find me when you seek me with all your heart. - Jeremiah 29:13
I love Spring, and I love Easter. I get excited when those little plastic eggs hit the store shelves. I get them early and fill them with jellybeans and chocolate eggs. I love it so much that I tend to stuff a generous amount of eggs, even though we usually only have two children hunting for them!
On Easter morning, my husband slips outside to hide the eggs. He places them in easy to locate spots, but also in spots that the kids may not ever notice, or simply walk right by without even seeing them.
When he is finished hiding the eggs, the girls grab their baskets and quickly run around outside, checking under bushes and up into the tree branches. Those little eggs can be found snuggled into a leafy bush, resting inside a flower, and laying on the window ledge. Some eggs have found themselves on top of the bird feeder, on the pool waterfall, and under the doormat.
After the hunt is over, the girls empty their candy into their basket and then hide the eggs again for each other to find, just for fun.
I love the words of this Bible verse. "You will seek me and find me when you seek me with all your heart." The Lord has done so much for us! The Easter season is a celebration of how He died and rose again for us, so that we can have NEW life. He gives us the promise that if we seek Him with all our hearts, we will find Him.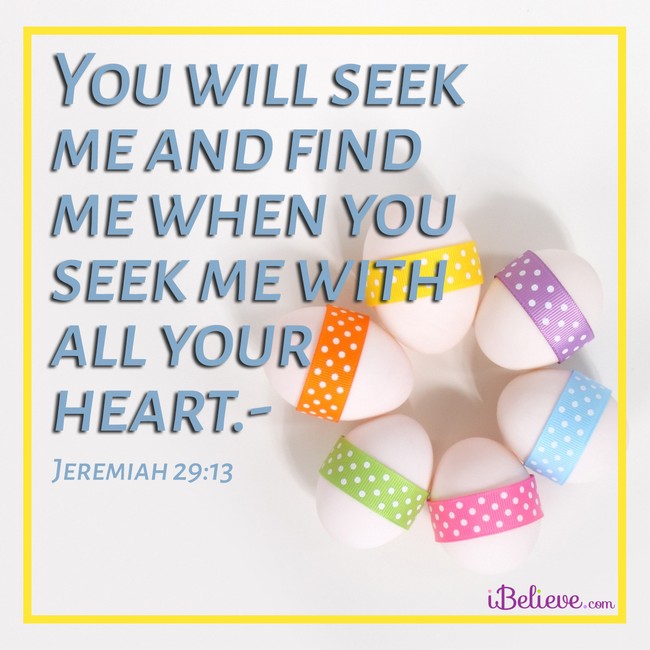 My girls don't casually hunt for their eggs. No, they usually are running to find them. My sweet girls who usually share well, turn into super competitive egg hunters. For them, it's an 'each man for himself'' kind of mentality. Nothing deters them from seeking for eggs with every single part of their being. Their satisfaction is having a filled basket.
What if we were to seek the Lord with that type of dogged determination? What if nothing could hold us back? Our verse promises us that we will find God if we seek Him. My girls prepare for their hunt by not only seeing the basket sitting on the table for days, but talking about it as they wait in anticipation for the hunt.
My girls never give up seeking for eggs after finding just a few. They continue to seek.
Can you join me in seeking the Lord in as many moments each day as possible?
Seeking God is as easy as learning to pray in every situation (good or bad) and asking God for wisdom as you walk through it.
Seeking God starts as we open the Bible each day, praying for Him to reveal himself through the words. We can cling to the promise our verse gives that we will find Him!
Let's make this season a new start for us spiritually. Together, let's pray words of thankfulness, read His words and seek him with everything we have! Let's dust off our Bibles and open them. Let's eagerly seek Him today and tomorrow, until we know Him more than we ever thought we could!
---
Tiffany Thibault enjoys living life with her husband, two teenage daughters and one very large dog. She homeschools her girls, and loves to write and speak about Jesus. She loves long walks, coffee and anything chocolate. You can find her over at www.TiffanyThibault.com.
For More Great Resources for Women, Visit iBelieve's Faith Channel.
Join licensed therapist Carley Marcouillier on Therapy + Theology each week as she tackles a common question related to therapy, mental health, and faith.

Listen to an episode right now by clicking the play button below!