Emmanuel, He Is With Us - iBelieve Truth: A Devotional for Women - December 26
Emmanuel, He Is With Us
By Keneesha Saunders-Liddie
"Behold, a virgin shall be with child, and shall bring forth a son, and they shall call his name Emmanuel, which being interpreted is, God with us." – Matthew 1:23
When I was pregnant with my daughter, I felt a lot of pressure to choose a name. I of course wanted to pick a name that sounded amazing, wasn't too popular and has a great meaning. To relieve the pressure, I decided to write down a list of biblical names and give it to my husband to choose from.
As soon as he saw the list, he picked the one I liked the least! I guess I thought somehow God would point him toward the one I was leaning to, but that wasn't the case.
Today, my daughter bears the name that my husband chose on impulse and it has grown on me. Honestly, I can't think of a name that better suits her. Her name doesn't have a fancy meaning, but it means crowned, and that's good enough for me.
Mary, the mother of Jesus, didn't have to stress like we did or read through countless books to pick a name for the promised Messiah. How blessed was she?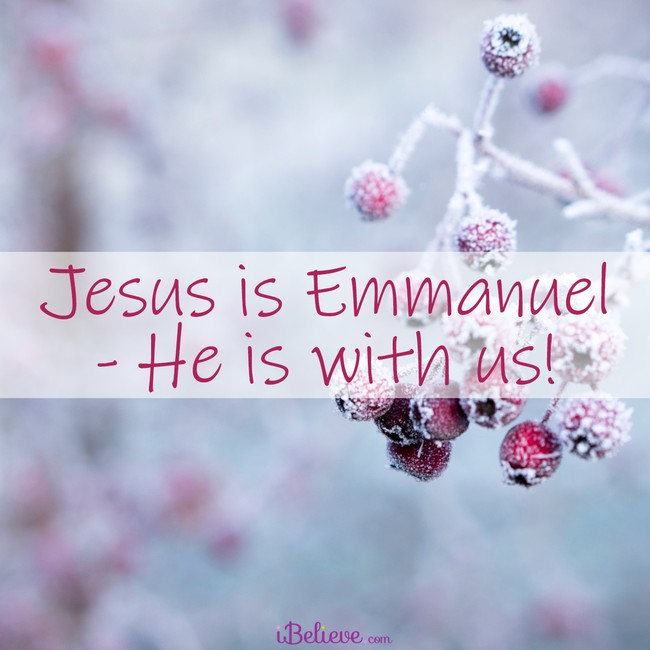 She had the awesome task of birthing and raising her Creator, and she knew exactly what his name was going to be.
His name would be Emmanuel, which means, God with us. God came to earth to experience what humans face, just to turn around and redeem us.
Today should be merry and bright as we remember the path Jesus chose to save me and you. As we look back to that night Mary conceived, let your friends and co-worker know of the joy that is to be found in this memorable occasion in history.
Mary was chosen to be the human mother of our Lord. Who has God chosen to bless you with? As we think about the baby Jesus and our own little children, ask yourself who are you raising?
Who has God placed in your care? Could your daughter or son be the next president, missionary, pastor, evangelist, lawyer, etc... whatever the case, it is part of your responsibility to train them in the way that they should go.
Teach them about the Christmas story, let them know the importance of the virgin birth and that Jesus is the reason for the season. Deuteronomy says it best but it's in the way that we live each day moment by moment that we can show our kids who God is and why it is important to trust and love him.
As you think about the miraculous birth of Jesus, remember that our crowned prince, the Lion of the tribe of Judah is with us and wants us to glorify him.
Dear Jesus,
You have been so good to me and I'm so grateful that you chose the humble beginning of becoming human to rescue us. As we celebrate this day, help us to keep you at the forefront. In Jesus' name, Amen.
---
Keneesha is a wife, mom and writer. She is an avid reader of wholesome romance novels and a lover of writing. She is hoping to one day add author to her list of accomplishments. As a pastor's kid she fell in love with the way Jesus loved her at an early age and want to encourage others to live for him through her words. You can find more musings from her here https://womenlovinggodsway.com.
Want to grow in your character, career, calling, and community? We've got a podcast for you!
Are you ready to start tackling your goals? Have you been looking for a few helpful ways to reach them successfully? Join Courtnaye as she shares lots of practical tips that will help you accomplish your goals with a solid plan forward. Just click the play button below!
Click here to see the full list of Inside Out with Courtnaye episodes!