Living by Believing
By Kristine Brown
"For we live by believing and not by seeing." 2 Corinthians 5:7 NLT
After thirty radiation treatments and two rounds of chemo, I walked into the surgeon's office with expectation. Since the beginning, our prayer was for the treatments to successfully dissolve the cancerous mass, so surgery wouldn't be needed. Now, we waited to learn the biopsy results.
Still feeling the residual pain from it all, questions threatened once again. I'd heard these thoughts before, and I knew what to do. I needed to look beyond my physical circumstances and focus on God's goodness.
Each day I would cling to Hebrews 10:23, "Let us hold unswervingly to the hope we profess, for He who promised is faithful." This was God's promise to me. And can I be completely honest? It was hard to "hold unswervingly" when by body screamed with the worst pain I'd ever experienced. But in the minute-by-minute battle for my thoughts, I knew I could either give in to the pain or keep believing for a good outcome.
I chose to believe.
The surgeon joined us. My husband and I were surprised by the look of confusion on his face. He explained during the post-treatment exploratory procedure, he had serious concerns. He didn't like what he saw. So, he took several biopsies. Each and every one of the biopsies came back benign. No cancer cells present. This verse instantly came to mind.
"For we live by believing and not by seeing." 2 Corinthians 5:7 NLT
In 2 Corinthians chapter 5, Paul explained the hope that one day we will all leave our earthly bodies and be joined with Christ in heaven. He empathized with the church saying, "as long as we live in these bodies we are not at home with the Lord." But in verse 9 he encouraged them and helped them grasp the big picture. "So whether we are here in this body or away from this body, our goal is to please him."
For believers then and now, this world can sometimes be a discouraging place. We look around and see despair, conflict, and pain. If we don't stay focused on the hope of Christ, we become vulnerable to all the hurt we see. But when we live by believing and not by seeing, we become part of a different story. A better one.
If I had put my belief in what the doctor saw that day, I would've opened my heart to discouragement. By focusing on what I knew to be true instead, I was able to fully trust God for the outcome. Not just one time, but over and over, day after day.
Let's choose to believe not according to our current struggles, but according to God's undeniable Word. When we commit to living by believing, we will be able to hold unswervingly to hope, whatever comes our way.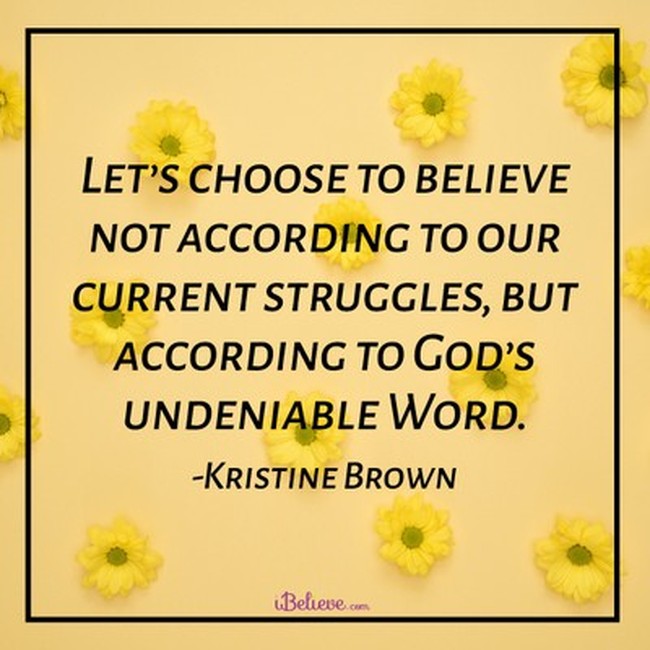 ---
Kristine Brown is the author of the book, Over It. Conquering Comparison to Live Out God's Plan, and the companion devotional for teen girls. Discover more about walking in faith with resources from Kristine Brown's Life Enrichment Library. You'll also find weekly encouragement to help you "become more than yourself through God's Word" at her website, kristinebrown.net.
For More Great Resources for Women, Visit iBelieve's Faith Channel.
Join licensed therapist Carley Marcouillier on Therapy + Theology each week as she tackles a common question related to therapy, mental health, and faith.

Listen to an episode right now by clicking the play button below!