The "Rite" Person
By: Maggie Meadows Cooper
A few nights ago, I found myself in the playroom by myself, searching through a basket of laundry for clean blue jeans for my son, and all I could think of was one thing. One simple wish. To sit. For an extended period of time. That's all. Have you ever been there? But, I knew that wasn't an option because there were responsibilities to take care of. So, I sat on the couch for a quick minute, bowed my head, and prayed for strength and endurance to make it through a couple more hours until bed. As I finished with a whispered "Amen" and looked up, I sighed.
Bean bags were piled up to form a secure fort around the Xbox to my right. Goldfish wrappers and dryer sheets were littering the floor. Baskets of dirty clothes, clean clothes, and everything in-between surrounded me. Cars and blocks and markers and coloring sheets were all around. My mind was full of dates and emails and contacts I needed to be taking care of for work. And I was trying to think of the last time my husband and I had a real conversation. And it just made me tired.
I found myself wondering why in the world the Lord entrusted me with the people and the job and the responsibilities he did. And contemplating how I could ever do them all justice. But a few days later I came across this in my son's journal from school:
"Let me tell you about the first christmas. The first christmas was in bethlaham. And that day Jesus was born. The savyer was born. God picked jesus to save poeple from sin. The reason we have christmas is for jesuses burthday. And jesus was born in a stable. There wer a lot of animals in the stable. Inclouding a cow. Winn he was born merry rapped him in cloth and put him in a manger. The day jesus was born was the day the first christmas came. christmas is not about presents it is about jesus. Christmas is a very fun holaday. I bet the first christmas was exsiting. God chose jesus to be the savyer and to save poeple from there sin. Did you know that jesus was born in a manger? God picked the rite person to be the savyer. Jesuses mom and dad wer named merry and josef. Is Jesus in yer hart?"
-Whit, Age 7
I smiled at the precious words of my son retelling the Christmas story. My heart felt so full because the words on the page rang true with a sweet innocence. And then I paused as I got to this: "God picked the rite person to be the savyer."
So simple, yet profound. God picked the right person to be the Savior.
And I felt Him saying, "And I picked you to be the right person for your story, Maggie. These are your people. These are your assignments. These things around you are your "whatever you do" (Col.3:17) Now do them the best you can. Even when you're tired. Even when it's hard. For Me."
I wanted to believe that, that I'm the right person. But the "buts" kept coming.
But... I'm a mediocre housekeeper. There are always dishes in the sink and crumbs on the floor. Beds are unmade a good bit and laundry is always a work in progress.
But... I'm a mediocre cook. I have burned rice before...and actually, a number of other things. (If you ever come to visit and find a tray of burnt toast at the front door, just step around it... the smoke should clear momentarily.)
But... I'm so forgetful. Two cans of whipped cream barely made it to the second grade Christmas party and if it's not written down, well it doesn't happen.
And... I'm always late. We pray for green lights on the way to school every morning...and say "Thank you, Lord!" as we pass under them!
And these are just a few of my shortcomings... but still I felt it in my soul. You are the right person, Maggie.
Oh y'all. Isn't there comfort there? The Lord picked the right one, the only one, Jesus, to be the Savior of the world. And He picks the right one, including you, for all of His purposes, whatever they may be.
He doesn't make mistakes. He chose to bring Jesus as our Savior in His perfect timing, in His perfect place, for His specific purposes-even when it might not make sense to the world. He picks the "right" person for every position he needs filled. Single, married, children, no children, full-time, part-time, old, young, rich, or poor...we are all the "right person" for the life God has entrusted to us in His will. Even when it doesn't feel like it.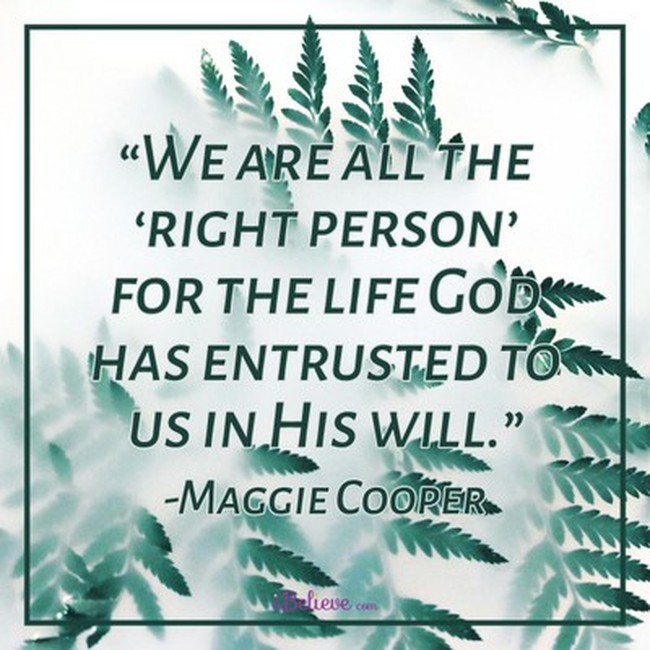 What a blessing to remember that we are His. That He is in control. And that we can just be.
It doesn't mean things are always easy. Most things worth having rarely are. So, pray for His strength, His words, His love, and His wisdom to guide you. And rest in being the specific person with the specific purpose He made you to be.
"Furthermore, we have seen with our own eyes and now testify that the Father sent his Son to be the Savior of the world." - 1 John 4:14 NLT
---
Maggie Meadows Cooper is a wife, mother, educator, author, and blogger with a longing for women to grow a heart for Jesus and others. She is the author of the children's book Bumper, helping others to see that the heart is what counts most. She blogs at The Little Moments about what the Lord is teaching her in everyday life and contributes to Blogs by Christian Women, Devotional Diva, She Disciples, and Connecting Ministries. An educator with an M. Ed. in Early Childhood Education from Auburn University (War Eagle!), she has eighteen years of experience teaching and currently serves as a Parent Coordinator in the Opelika City Schools. She loves all things chocolate, real Coca-Cola, and leading the FBCO Teen Moms group. She lives with her husband, three children, and two rambunctious dogs in Opelika, Alabama.
For More Great Resources for Women, Visit iBelieve's Faith Channel.
Join licensed therapist Carley Marcouillier on Therapy + Theology each week as she tackles a common question related to therapy, mental health, and faith.

Listen to an episode right now by clicking the play button below!