Be Different
By: Victoria Riollano
Let everyone see that you are considerate in all you do. Remember, the Lord is coming soon. - John 13:35
This summer, my family and I discovered a new show called Songland. The premise of the show is to bring aspiring songwriters in front of producers to create the next hit. As one who has a heart for writing and music, I was hooked from episode one. Out of all the episodes, however, the most memorable one would be where the song, "Be Nice" was created. The words and idea of the chorus are relatively simple.
"Be different
Be nice
Just smile
I promise it will change your life."
Within moments of hearing the song, we knew this would become a family favorite for our home. Even months later, we sing it and say the words over and over when someone isn't being nice. Yet, as I think of these phrases, I am completely aware that in today's time being different and choosing to simply be kind may be a stretch for some. But, what would happen if we were intentional about others? What would happen if those who profess Christ wore their kindness for others as a garment? What if each of us chose to be the hope, be the change, and be different?
Could it be that our kindness opens the door for others to accept Christ?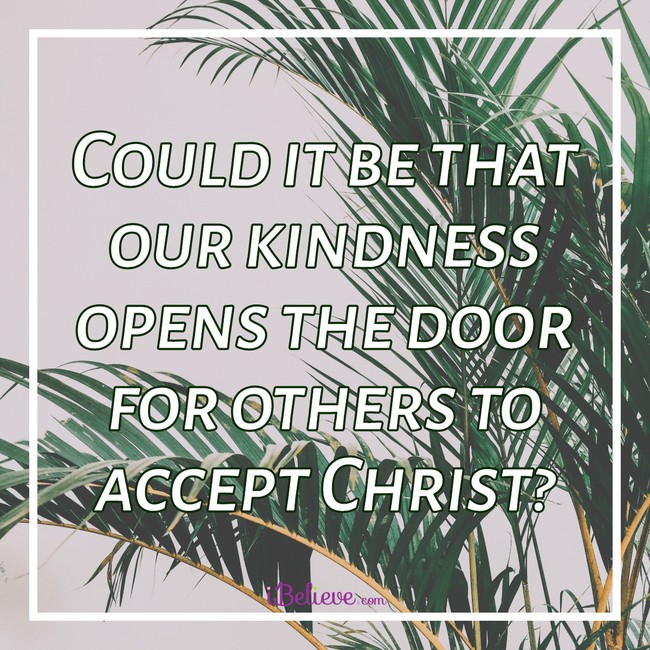 The truth is, no one willingly follows an unkind or hot-tempered person to a bible study or church service. Instead, it will be our choice to be different and lead with love that will cause others to want to be a part of what we are passionate about.
We find this concept of loving others and drawing them closer to God throughout the Bible. Even God himself leads with purposeful love.
The LORD appeared to us in the past, saying: "I have loved you with an everlasting love; I have drawn you with unfailing kindness. - Jeremiah 31:3
With his unfailing kindness, He draws us in. In my mind, I see His love as a hook that draws us in. His love makes us want to come closer. Much like a fish who simply can't resist the bait, so are we when we are presented with God's unrelenting love. How powerful would it be if every Christian loved like Christ? I am convinced that churches would be full and the act of giving love would be contagious. Though we shouldn't just treat people well in hopes that they will follow us to Christ, we recognize that there is enough hate to go around that we can choose to be different.
Today, I encourage you to be different. Ask the Lord to show you new ways to love people. Perhaps, you can be different by choosing to talk to "that co-worker" that no one likes. Maybe the Lord will lead you to give a compliment or even pray for a stranger. Whatever the case may be, my prayer is that as you go about your everyday life, you seek the Lord constantly for ways to be different. As we show His love at every moment we can, we remind people of the amazing God we serve. After all, they will know we are His by the love we share.
By this everyone will know that you are my disciples, if you love one another." - John 13:35
---
Victoria Riollano is an author, blogger, and speaker. As a mother of six, military spouse, Psychology professor and minister's wife, Victoria has learned the art of balancing family and accomplishing God's ultimate purpose for her life. Recently, Victoria released her book, The Victory Walk: A 21 Day Devotional on Living A Victorious Life. Her ultimate desire is to empower women to live a life of victory, hope, and love. She believes that with Christ we can live a life that is ALWAYS winning. You can learn more about her ministry at victoryspeaks.org.
For More Great Resources for Women, Visit iBelieve's Faith Channel.
Join licensed therapist Carley Marcouillier on Therapy + Theology each week as she tackles a common question related to therapy, mental health, and faith.

Listen to an episode right now by clicking the play button below!