Grace Turns Hopelessness Around
By: Kristine Brown
Through him (Jesus Christ) we have also obtained access by faith into this grace in which we stand, and we rejoice in hope of the glory of God. - Romans 5:2
I threw my hands up in the air, completely undone by my helplessness at that moment. I had stepped in to serve as 'coach' of my second-grader's soccer team when no one else was available. I was told it would be easy. That it would be fun. And most importantly, that if I didn't volunteer, the kids wouldn't get to play.
Boy, did they know just what to say to draw me in.
As I paced back and forth on the sideline, I found myself in foreign territory. The scene played on repeat like the Groundhog Day movie. I watched helplessly as the kids made the same mistakes over and over again. We would barely get the ball back into play when we'd hear the referee's screeching whistle blow, signifying another foul committed by my team. I hated that whistle.
But the worst part wasn't even how badly we were losing. It was looking across the field at the other team, coached by five experienced dads, all in matching shiny jerseys. Their combined expertise far outweighed anything this soccer-challenged Momma could offer. I felt hopeless.
You know that feeling you get when you already sense defeat, but you can't just go home and hide under the covers and sulk about it? Instead, you have to stay and watch it play out slowly while you beg God for it to end? Then you know how I felt that day. So as the ref blew his whistle for the hundredth time on my team's best player, something happened. I can't explain why, but I marched out onto that field.
"As you can see, the other team's coaches are far superior. I don't even know how to tell the kids what they're doing wrong. Can you give me some grace here?" I asked.
The words came as a desperate plea for help. I didn't have the answer. All I knew was that I had to do something, so I asked for some grace.
The New Testament gives us wonderful encouragement about the grace given to us through Jesus. Roman's 3:24 sums it up perfectly by reminding us we are "justified by his grace as a gift, through the redemption that is in Christ Jesus." Our human minds have a hard time fathoming that kind of love. How could one man sacrifice himself to give us the forgiveness we don't deserve? Incredible. But I love how today's key verse takes this gift a step further. Not only have we received grace. Through that grace, we have hope.
"Through him (Jesus Christ) we have also obtained access by faith into this grace in which we stand, and we rejoice in hope of the glory of God." Romans 5:2 ESV
Sometimes our situations seem hopeless. We can stand there, staring at the giant in front of us and feel there's no way out. We can throw up our hands and wish it would end already. Yet when we are in a place of grace, we can hold onto hope. God is with us. He will never leave us, and He will bring good from our circumstances.
It's easier to have hope when we're standing in grace.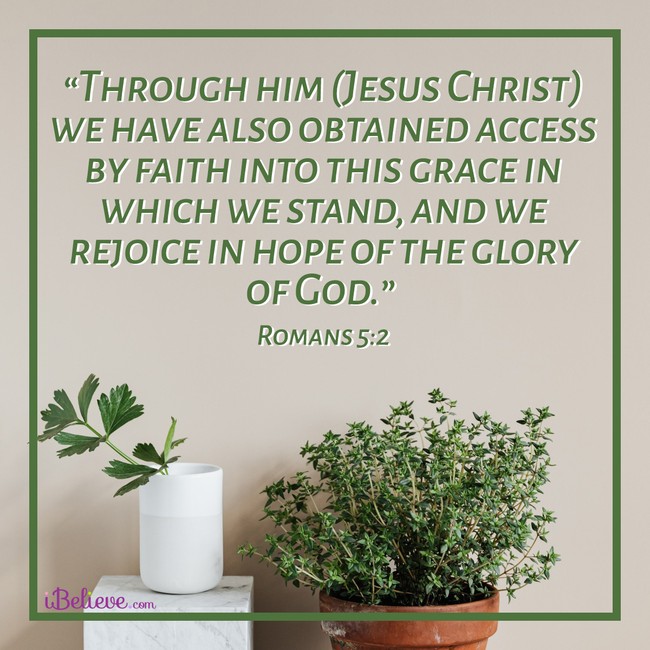 I had almost given up hope that fateful day on the soccer field. My hopelessness turned around though, when I called on the one person who could help.
Once I asked for grace, the referee gave an understanding smile and proceeded to explain to my player why he fouled. He offered an impromptu lesson and demonstrated a few things. He continued giving helpful tips throughout the game, taking on the role of coach when I clearly couldn't do it on my own. Grace is a powerful thing.
If your circumstances have taken away your hope, don't give up. Just when you're ready to throw your hands up in defeat, remember that you are standing in the sweet, sweet gift of grace. God is there, ready and waiting for you to reach out to Him. May the forgiveness Jesus gives uplift our hearts and encourage us to trust in Him as we trade hopelessness for hope.
---
For more on grace, visit Kristine Brown at her website, kristinebrown.net. You'll love her resources designed to help you "become more than yourself through God's Word." You can also connect with her on Facebook.
For More Great Resources for Women, Visit iBelieve's Faith Channel.
Join licensed therapist Carley Marcouillier on Therapy + Theology each week as she tackles a common question related to therapy, mental health, and faith.

Listen to an episode right now by clicking the play button below!