Who Is God Calling You to Encourage? - iBelieve Truth: A Devotional for Women - September 2
Who Is God Calling You to Encourage?
By Meg Bucher
"And let us consider how we may spur one another on toward love and good deeds, not giving up meeting together, as some are in the habit of doing, but encouraging one another- and all the more as you see the Day approaching."- Hebrews 10:24-25
One summer, our community had been ripped out from underneath us, and it sent us reeling. We were fighting the temptation to give up on people.
If we are not intentional about purposefully engaging with others in our community, life can feel lonely. God did not intend for the church to function this way. In Hebrews 10:24-25, He encourages us to keep meeting together. Sunday church isn't something meant to check of a to-do list, but rather hold us up when we can't stand. Life comes with crushing moments, and God knew we would not be able to fight through them alone.
Jesus lived in community with people and shared a close kinship with His apostles. The Voice paraphrase of our verse in Hebrews reads, "Let us consider how to inspire each other to greater love and to righteous deeds…" Christianity cuts against the grain of culture, and it can easily persuade us not to take this calling to encouraging others seriously.
Sometimes, the most tender cut of meat comes by cutting against the grain. Likewise, walking with Christ produces sweeter fruit than following the societal crowd… but it's painfully difficult and isolating without a community of fellow believers to cheer us on.
In letting go of our natural human inclination to seek approval for others, God will always place people around us to prevent us from suffering through change alone. The importance of community functions most properly when Christ is at the center of our daily disciplines. Then He will build that community of people around us. Never stop pressing into the people God places around you. We all have our own messes, hurts, hang-ups and relationship failures. Keep loving people, even though it's messy.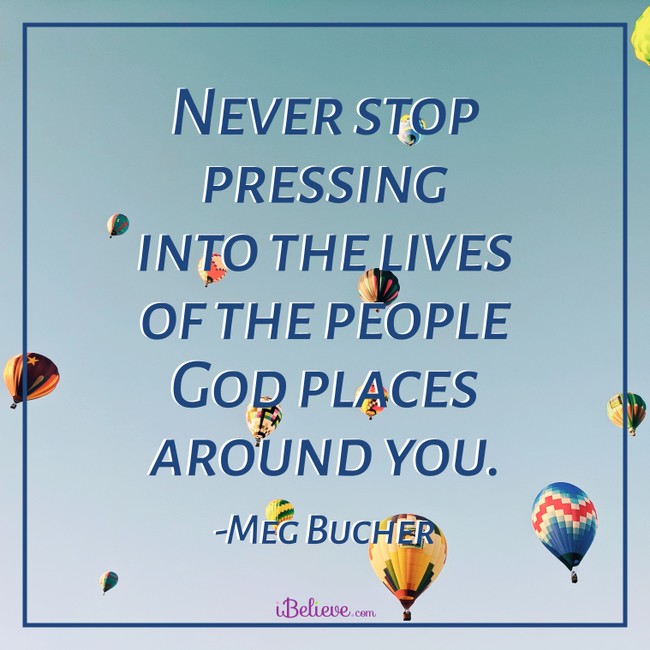 "Encourage each other," in the original Greek,is "to call to one's side." The root of that word means, to be "beside," "by," or "near."
How often are we willing to put ourselves in the line of fire for each other?
How often are we willing to step out, get uncomfortable, self-sacrifice, and be near to someone struggling?
How often are we willing to bench our popularity in order to sit loyally with a friend who is suffering?
Strong community is Christ-centered. Seek Him first, and He will put people in place to love and encourage, and others to love and encourage us. He promises, "I will never leave you; I will always be by your side." (Hebrews 13:5)
Father,
How intricately You weave us together into communities. Promising You will never leave us alone, Jesus You are faithful to cover us in love in crushing moments. Thank You for leaving an example of community for us to follow, and make us aware of those You place in our paths to love and encourage. May all we do be to honor You. Bless and heal broken and fragmented communities and friendships, and thank You for covering us in grace for all the times we get it wrong. We want Your joy and peace to flow out of our lives. Help us to see we are purposefully placed to do so.
In Jesus Name,
Amen.
---
Meg Bucher writes about everyday life within the love of Christ. She stepped out of her comfort zone, and her Marketing career, to obey God's call to stay home and be "Mom" in 2011. From that step of obedience her blog, Sunny&80, was born, a way to retain the funny everyday moments of motherhood. Meg is also a freelance writer and author of "Friends with Everyone." She loves teaching God's Word and leading Bible study, being a mom, distance running, photography, and the Cleveland Browns. Meg resides in Northern Ohio with her husband, two daughters, and Golden-Doodle.
For More Great Resources for Women, Visit iBelieve's Faith Channel.
Join licensed therapist Carley Marcouillier on Therapy + Theology each week as she tackles a common question related to therapy, mental health, and faith.

Listen to an episode right now by clicking the play button below!