Finding Strength in Stinging Moments - iBelieve Truth: A Devotional for Women - November 4
Finding Strength in Stinging Moments
By Meg Bucher
"But he said to me, 'My grace is sufficient for you, for my power is made perfect in weakness.' Therefore I will boast all the more gladly about my weaknesses, so that Christ's power may rest on me. That is why, for Christ's sake, I delight in weaknesses, in insults, in hardships, in persecutions, in difficulties. For when I am weak, then I am strong." - 2 Corinthians 12:9-11 NIV
My daughter's tears flowed as she recalled a stinging season of bullying. I was glad to be her safe place in that moment. We should all have someone safe to whom we can vent our raw emotions. In that pocket of peace, we held each other accountable to the truth of the matter.
This wasn't a return of the stinging season of bullying, so she and I had to choose to not get swept back into past hurts from which she had already healed. So, instead of matching condemnation and criticism, my daughter decided to grip onto grace. The hurt was real. The disappointment was disheartening. Deep down, we all want people to like us! We need to be loved, and so rejection naturally stings. Those feelings are not only OK, they are normal. What we do with them, is everything.
Do we match condemnation and criticism, or do we grip onto grace? It won't be the last time my daughter, nor I, deal with a mean quip accompanied by an overdramatic delivery. But in each and every opportunity, we can choose to let grace guide us.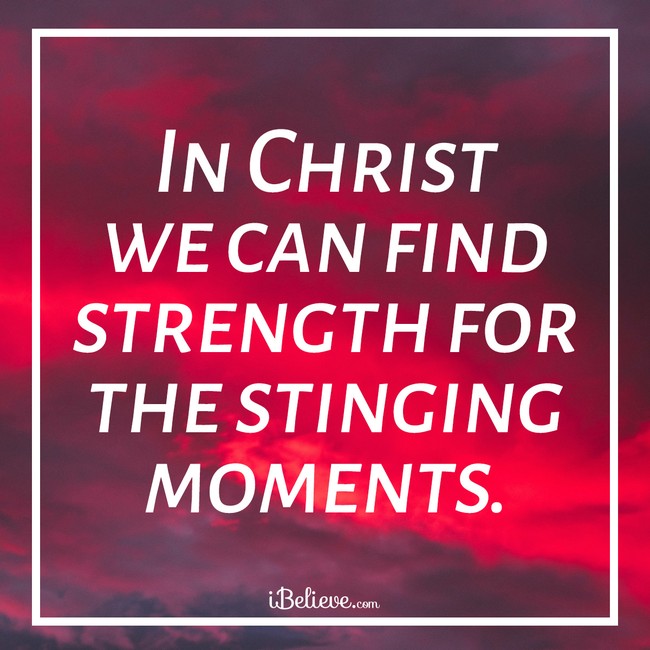 Jesus was spat on, mocked, and made fun of. People doubted who He was. Even some of His own family didn't believe Him. All but one of His closest friends abandoned Him as He hung on the cross.
It didn't stop Him.
He still chose to glorify God with His life.
And we can, too.
We are called to take up our cross daily. In Christ, we die to ourselves, and choose to live by His standards, through the strength of the Holy Spirit living in us. It's that nudge telling us to gauge our reaction, find a safe person to vent to, and think about our words before we let them fly. It's the filter allowing us to expose calculated quips from hurt souls. He reminds us, when we grip grace while under attack, who we are in Him. We can be weak. We can be hurt. Because it's in our weakness, He is strong.
When Paul talks about weakness in 2 Corinthians 12, his perspective is admirable! He'd been through shipwrecks, snake bites, beaten almost to death, jailed, and had suffered immensely for the furthering of the Gospel. Why? Who would do that? And continue to do that?
Someone who knew the power of Christ living inside of Him. Paul knew who he was in Christ. "When I am weak, then I am strong." Paul isn't talking about operating on his own strength. He's telling us of the heavenly perspective we adopt when we live life within the love of Christ. When we love people, purposefully, as He pursues to love us, purposefully.
Parents, we can guide our children through all of the drama by gripping onto grace. It's often harder for parents to swallow the pride they have in their child and their natural reaction to defend them than it is for our children! How much more does our God, our Father in heaven, see their pain and defend them… His children!
We can be strong under attack by seeking shelter in the arms of our strong Savior. Parents, we can run there, too, when their hurt triggers our own. After all, it's our job to lead our children to Him.
When we allow hurt and weakness to wash over us in stinging moments, we are strong in Christ. When we meet meanness with the grace of our Maker, we have a front row seat to witness His power in their hearts. The world tells us to be strong, shake it off, don't let it bother us or get to us. God encourages us to bring every bit of our hurt to Him for healing. Less of us. More of Him. In our weakness, our hurt, our failures, He is strong. Grip onto Grace.
---
Meg Bucher writes about everyday life within the love of Christ as an author, freelance writer and blogger at Sunny&80. Her first book, "Friends with Everyone," is available on amazon.com. She earned a Marketing/PR degree from Ashland University, but stepped out of the business world to stay at home and raise her two daughters. Besides writing, she leads a Bible Study for Women and serves as a Youth Ministry leader in her community. She lives in Northern Ohio with her husband, Jim, and two daughters.
For More Great Resources for Women, Visit iBelieve's Faith Channel.
Join licensed therapist Carley Marcouillier on Therapy + Theology each week as she tackles a common question related to therapy, mental health, and faith.

Listen to an episode right now by clicking the play button below!