How to Get Rid of "All Such Things" - iBelieve Truth: A Devotional for Women - November 7
How to Get Rid of "All Such Things"
By Tiffany Thibault
But now you must rid yourselves of all such things as these: anger, rage, malice, slander, and filthy language from your lips. - Colossians 3:8
Almost three years ago, my husband and I decided to downsize. At the time, it seemed like a simple thing to do. It didn't seem to be a problem that downsizing meant we would move from a five-bedroom, four-bathroom house of 3,200 sq feet into a two-bedroom, one-bathroom house of 896 sq feet. Now keep in mind that we also have two teenage daughters whom we homeschool (and all their belongings) as well as one very large, very active dog. This turned out to be the craziest adventure of my life!
Easy, I thought! Then our large house sold quickly. Since we had to move sooner than I planned, my super practical husband got a storage unit for six months. The plan was to just move our extra stuff into it, and then over those six months, sort through, sell, or give away what absolutely could not fit into our super small house with its teeny tiny closets. Basically, we had to rid ourselves of about 75% of our belongings.
Some things were super easy to get rid of. Extra clothes, linens, dishes, old furniture - not a problem. It was easy to donate books that we had outgrown or could get at the library. It was not so easy to get rid of knick-knacks and other items that help sentimental value, even though, to be honest, I hadn't even looked at them in the ten years we had been in that house.
Purging the things I no longer needed, but was holding onto purely for the memories, was extremely hard. It hurt to give or to throw those things away. With a lifetime of memories and tokens though, I couldn't keep each one. There was literally no room, except for a few. I had to choose, and each decision mattered.
Our verse gives us some pretty strong language. The first part says: "but now you must rid yourselves of all such things as these: anger, rage, malice, slander, and filthy language from your lips." This command is very clear about what we need to do. The Bible is telling us to get rid of the things which are not only hurting our testimony, but are also keeping us from knowing Christ more fully, and walking in close fellowship with Him.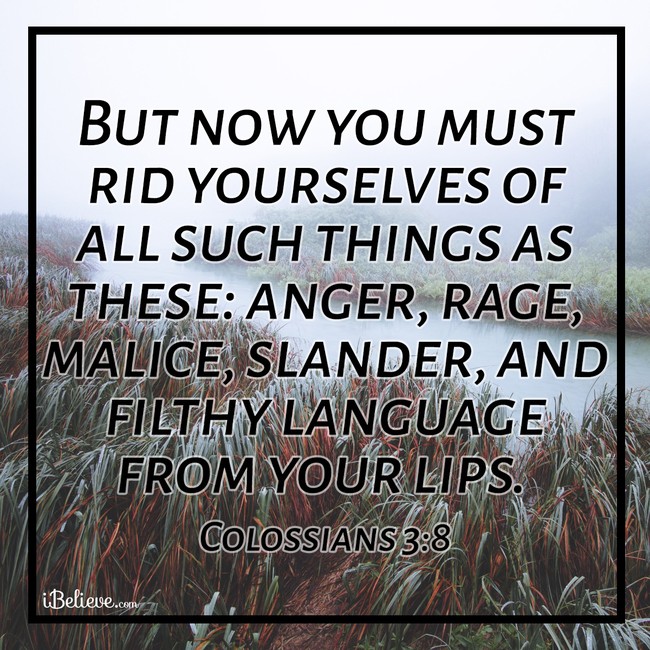 These issues of anger, rage, malice, slander, and filthy language are rampant in our society today. Sadly, it has become the norm for even Christians. Paul tells us to rid ourselves of them. This is not a "shove it in the back of the closet" command, or a "hold onto it in case you might need it" situation. Instead, Paul is exhorting us to throw it in a trash bag, tie it up, throw it in the car and drive it immediately to the dump, kind of action. Once it's in the dump, it is gone. It has no place in your life anymore. In its place grow the fruit of the spirit: love, joy, peace, patience, kindness, goodness, faithfulness, gentleness, and self-control.
If we have the courage and the strength to get rid of all the anger, rage, malice, slander, and filthy language that lies in our hearts, think of all the peace that we would have. Think of all the freedom. Think of all the good that would come in our homes, our relationships, our hearts and our minds.
Getting rid of a lifetime of stuff was super hard, but I am now living more carefree. Since I have purged my life of all the extra, unnecessary items, I can now clean my entire house in under an hour! I have more time to do the things I love, without spending hours maintaining all my belongings.
Knowing there is no more room in the house for frivolous items has caused me to be extra careful about what comes through my door. The same thing holds true for us about what Paul wrote. Once we have rid ourselves of anger, rage, malice, slander, and filthy language, we will find that we don't want them to come back. We don't want to carry that burden anymore! We will be more intentional about our reactions to other people and to situations.
Will you join with me to rid ourselves of these things and intentionally replace them with the fruit of the Spirit? We can do this in the following simple moment by moment ways:
1. Make the decision to not allow the feelings of anger to enter before you face someone you struggle with.
2. Instead of flying into a rage when you get angry, pray for peace and forgiveness before, during and after your time with that person.
3. Pray for those who hurt you and forgive often. Do this, instead of holding malice or slandering someone on social media, to your husband or to your friend.
4. Pray for the Lord to guard your tongue and that your words would be pleasing to Him. Stop listening to others swear, whether that be your friends, tv or music. Choose to fill your mind with words from the Bible. Remember "garbage in, garbage out."
Let's downsize the negative emotions from our lives, and move into freedom to love and live, reflecting Christ to the world around us today.
---
Tiffany Thibault enjoys living life with her husband, two teenage daughters and one very large dog. She homeschools her girls, and loves to write and speak about Jesus. She loves long walks, coffee and anything chocolate. You can find her over at www.TiffanyThibault.com.
Want to grow in your character, career, calling, and community? We've got a podcast for you!
Are you ready to start tackling your goals? Have you been looking for a few helpful ways to reach them successfully? Join Courtnaye as she shares lots of practical tips that will help you accomplish your goals with a solid plan forward. Just click the play button below!
Click here to see the full list of Inside Out with Courtnaye episodes!