Living Loved
By Meg Bucher
"I have loved you with an everlasting love; I have called you, and you are mine." - Jeremiah 31:3
The bell rang to release homeroom, and I triumphantly toted an arm-full of carnations to First Period. Each bloom donned a colorful paper note, stapled to the stem, symbolizing likability, friends, and sometimes love. I have always wanted to be friends with everyone, and those flowers were seriously satisfying!
We put in work and wager a lot of our self-esteem for the approval of others. But it's in vain, literally. We are already accepted, liked and loved! God filled us with His love when He created us, and never stops loving who we are… right now.
How can we live, loved?
Jeremiah reminded the rebellious people of his day, "The LORD appeared to us in the past, saying: 'I have loved you with an everlasting love; I have called you, and you are mine." God's ancient people had rebelled… again. They had forgotten the fulfilling feeling of the love of God.
Instead of seeking solace in the One True God, they sought idols and all sorts of depravity. Jeremiah was called by God to stir their memories. As the "Weeping Prophet," he delivered a consequential message to God's rebellions people. Because of God's love for them, He would not allow them to continue on living in the depravity, and it pained Jeremiah to warn them of their assured destruction and exile.
God's love for us is unfailing. He created every intricate fiber of our being, and assigned our lives specific purpose. The Truth of John 3:16 echoes every heartbeat: "For God so loved the world that he gave his one and only Son, that whoever believes in him shall not perish but have eternal life." No one knows our souls better than our Heavenly Father. We cannot outrun His reach.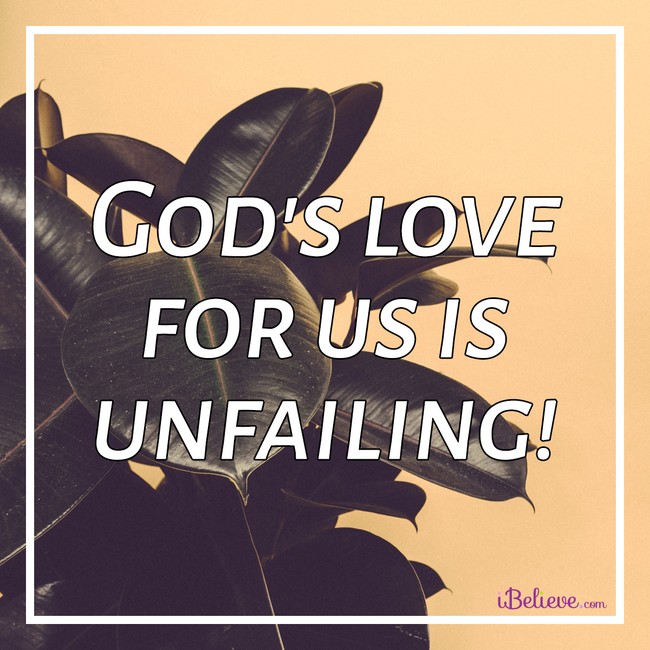 The love of God for us is impossible for humanity to explain and understand. Though we are created in the image of God, we all fall short (Romans 3:23). The greatest expression of God's love for us is Jesus. He sent His One and Only Son to die for our sins in our place. God wants a relationship with us, and He made a way for our imperfect nature to stand in the perfection of His holy presence.
When we walk through life, we are toting figurative arm-loads of carnations with paper messages stapled to them. They sing the anthems of our great God's personal love for us:
"I love you."
"I have called you."
"You are mine."
---
Meg Bucher writes about everyday life within the love of Christ as an author, freelance writer and blogger at Sunny&80. Her first book, "Friends with Everyone," is available on amazon.com. She earned a Marketing/PR degree from Ashland University, but stepped out of the business world to stay at home and raise her two daughters. Besides writing, she leads a Bible Study for Women and serves as a Youth Ministry leader in her community. She lives in Northern Ohio with her husband, Jim, and two daughters.
For More Great Resources for Women, Visit iBelieve's Faith Channel.
Join licensed therapist Carley Marcouillier on Therapy + Theology each week as she tackles a common question related to therapy, mental health, and faith.

Listen to an episode right now by clicking the play button below!