God wants you to be holy, so you should keep clear of all sexual sin. - 1  Thessalonians 4:3
What is God's will for my life? What does God want me to do? These are very important questions. But one thing God wants of us has nothing to do with doing, but rather with being. Before we ask God what he wants us to do, we need to understand and accept what he has already said we must be.
God wants his people to be holy, and this requires us to give up our sin. In a process called "sanctification," God works to transform our behavior to his holy standards. This happens in the lives of all who have accepted Christ as Savior, in whom the Holy Spirit is working to make them more like Christ. Because we will not be perfectly holy until heaven, our sanctification requires constant repentance from sin. Repentance involves turning away from our sins, from all that hinders us from being set apart for God's special use, from all that keeps us from being holy.
If you are struggling to find out what God wants you to do with your life, you need to ask yourself these questions: Will what I am contemplating doing mean I will be more like Christ by doing it? Will I be more holy, more whole than before? The answers to these questions should help you to decide!
God calls us to be holy. When we are set apart for him, we will be able to serve him—in our family, in the church, and in the world. This is the will of God!
For Further Study: 1 Thessalonians 4:1-18 
Excerpted from The One Year Devotions for Women, Copyright ©2000 by Jill Briscoe. Used by permission of Tyndale House Publishers. All rights reserved.
For more from Jill Briscoe, please visit tellingthetruth.org.
SPECIAL OFFER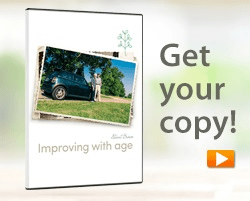 You CAN embrace getting older!
Aging isn't something to be shunned or simply endured. You can be full of joy and purpose in every season of life. Learn how with Stuart and Jill Briscoe's book, Improving with Age, as well as Stuart's companion 6-message DVD series of the same title. These resources are our way to thank you for your gift today.