Be humble and gentle. Be patient with each other, making allowance for each other's faults because of your love. - Ephesians 4:2
Are you good at making allowances for people? Or do you have ridiculously high expectations?
Our lives should say, "I make allowances for people," for this is the language of love. Forbearance is a divine quality. Romans 2:4 talks of the kindness, tolerance, and patience of God. His followers should do no less. We ought to willingly make allowances for one another because we love one another. This means I should hold back my quick judgment and should not evaluate or dissect people's motives.
What a challenge to walk through life like this! Are we making allowances for our teenagers, for example? I remember Pete, our youngest, growing daily right out of his socks—at fourteen years of age he was six-feet four-inches tall. Quite an achievement over such a small amount of time! But I didn't make allowances for his grand accomplishments! His schoolwork zeroed; around the house he was lazy and undisciplined; he couldn't be bothered even to pretend he wanted to go to church anymore! "No wonder!" laughed the wise counselor I resorted to in deep distress. "He's put everything he's got into blood and bones and height!" I got the point and made allowances.
Bishop H. C. G. Moule has said that forbearance is "allowing for each other's frailties and mistakes; aye, when they turn and wound you 'in love,' finding it easy to see with their eyes and if need be to take sides with them against yourselves!" That's making allowances!
For Further Study: Ephesians 4:1-10 
Excerpted from The One Year Devotions for Women, Copyright ©2000 by Jill Briscoe. Used by permission of Tyndale House Publishers. All rights reserved.
For more from Jill Briscoe, please visit tellingthetruth.org.
SPECIAL OFFER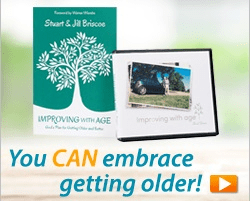 You CAN embrace getting older!
Aging isn't something to be shunned or simply endured. You can be full of joy and purpose in every season of life. Learn how with Stuart and Jill Briscoe's book, Improving with Age, as well as Stuart's companion 6-message DVD series of the same title. These resources are our way to thank you for your gift today.