So, my dear brothers and sisters, be strong and steady, always enthusiastic about the Lord's work, for you know that nothing you do for the Lord is ever useless. - 1 Corinthians 15:58
Many people have a dread of living in vain. I read about a man who left a request in his will that his ashes be used in egg timers so that his life would not be a total write-off! The Bible tells me that my labor in the Lord is never useless. That's why I need to be steadfast and immovable in my determination to seek out the work that is his will for my life; and once I find it, I must do it with all my strength, all my days, keeping all eternity in mind.
Working for Jesus Christ and his kingdom has eternal repercussions. Are you ever so despondent that you feel you may as well end up in an egg timer? Come to God through Christ—ask him to help you spend your time wisely, and you will not feel that your life is empty and frustrating. However, if you begin to serve him, you may run into another problem. You will probably discover there is never enough time to accomplish everything that needs accomplishing!
"What do people get for all their hard work?" Solomon asks (Ecclesiastes 1:3). Solomon was the wisest of men, yet he still had his egg-timer moments! Paul, knowing believers get discouraged, told us that the secret of a meaningful life is to be enthusiastic in the work of the Lord.
For Further Study: 2 Corinthians 1:1-11 
Excerpted from The One Year Devotions for Women, Copyright ©2000 by Jill Briscoe. Used by permission of Tyndale House Publishers. All rights reserved.
For more from Jill Briscoe, please visit tellingthetruth.org.
SPECIAL OFFER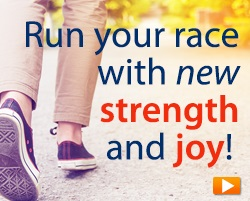 Run your race with new strength and joy!
The journey of faith is filled with rocky roads. When life isn't perfect it's easy to confuse the events of life with the absence of God. We want to send you Jill Briscoe's Faith Enough to Finish book to help you find the strength you need to endure life's tough times. Request your copy as thanks for your gift today!