But there is going to come a time of testing at the judgment day to see what kind of work each builder has done. Everyone's work will be put through the fire to see whether or not it keeps its value. If the work survives the fire, that builder will receive a reward. - 1  Corinthians 3:13-14
I am often asked, "Will Christians be judged if they have accepted Christ?" The answer is yes. We must all stand before the judgment seat of Christ to "receive whatever we deserve for the good or evil we have done in our bodies" (2 Corinthians 5:10). It doesn't say, "All of us will appear before God's judgment seat—except me!"
Believers will not be condemned for sin because their sin has been blotted out, canceled, nailed to Christ's cross (Colossians 2:14). But believers will be judged for the good and the bad they have done. The quality of what they have done with their lives will be tested.
Paul called believers "builders." All people are building something with their lives. Some are building their dream castles, others their empires of influence. Some are building temples to their own fame. What are you busy building? Are you building anything in the kingdom of God? Are you building friendships with a view to leading someone to Christ, or building a ministry to children, women, or to the needy? Will your life's accomplishments survive the fire of God's testing? In other words, will God find your "building" to be made of gold, silver, and jewels—having eternal value?
The rewards are described in the Bible as crowns—such as the crown of righteousness (2 Timothy 4:8) or the crown of life (Revelation 2:10). The Lord Jesus will crown the builders who have built well. When we build up God's kingdom, we offer Christ true spiritual worship, and we will receive a reward.
For Further Study: 1 Corinthians 3:10-17 
Excerpted from The One Year Devotions for Women, Copyright ©2000 by Jill Briscoe. Used by permission of Tyndale House Publishers. All rights reserved.
For more from Jill Briscoe, please visit tellingthetruth.org.
SPECIAL OFFER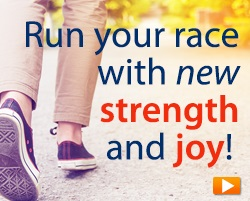 Run your race with new strength and joy!
The journey of faith is filled with rocky roads. When life isn't perfect it's easy to confuse the events of life with the absence of God. We want to send you Jill Briscoe's Faith Enough to Finish book to help you find the strength you need to endure life's tough times. Request your copy as thanks for your gift today!