And God has put all things under the authority of Christ, and he gave him this authority for the benefit of the church. - Ephesians 1:22
A dear friend was journeying with me to a conference and began to share the story of her thirty-year marriage. "If you had told me two years ago that my husband would walk out and leave his three lovely children and his wife after thirty years, I would have said you were crazy," she said soberly. "But here I am. I still think of my oldest boy on the day my husband left, saying, 'But, Dad, you've always said Mom is one in a million.' 'Well, now I've found one in a billion,' he coolly replied and walked out of our lives. For a few months I was swamped," she continued. "But then I found Christ, and the Scriptures told me that anything 'over my head' was under his feet! I learned that his mighty strength would work for me. I read that Jesus Christ my King was triumphant, and that in him, I could be triumphant, too!"
I told my friend—my brave and beautiful friend—that kings of an-cient times put their feet on the neck of their enemies in a symbolic gesture, and that God our King had put his foot on the neck of his enemies, too.
What situation are you facing that is over your head? Remember, whatever is over your head is under his feet—and therefore, under yours, too. Ephesians 2:6 says that God has "raised us from the dead along with Christ, and we are seated with him in the heavenly realms—all because we are one with Christ Jesus."
For Further Study: Ephesians 1:15-23 
Excerpted from The One Year Devotions for Women, Copyright ©2000 by Jill Briscoe. Used by permission of Tyndale House Publishers. All rights reserved.
For more from Jill Briscoe, please visit tellingthetruth.org.
SPECIAL OFFER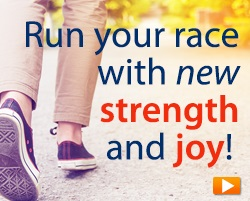 Run your race with new strength and joy!
The journey of faith is filled with rocky roads. When life isn't perfect it's easy to confuse the events of life with the absence of God. We want to send you Jill Briscoe's Faith Enough to Finish book to help you find the strength you need to endure life's tough times. Request your copy as thanks for your gift today!