Our sister Phoebe, a deacon in the church in Cenchrea, will be coming to see you soon. Receive her in the Lord, as one who is worthy of high honor. Help her in every way you can, for she has helped many in their needs, including me. - Romans 16:1-2
A single parent once looked around her Sunday school class and said with gratitude, "I have been so alone, but you are my family now." She had found the joy of being adopted into God's family and of having sweet fellowship with her believing family in a local congregation.
Christians have two families—their natural family and the spiritual family of God. Paul called Phoebe "our sister." This term implies a spe-cial relationship in a spiritual family. God embraces all who have been born of the Spirit and draws them into his family.
Phoebe was not only a sister, but a servant, too. The word for "servant" is diakonos, from which we have the word deacon. In Romans 16:2, Paul calls her "a helper of many" (NKJV). In that verse the word helper means "one who stands by another." So Phoebe was a woman of some consequence, a patroness of the saints, and she was apparently entrusted to be a courier of Paul's letter to the saints in Rome. At some time in Paul's ministry, God used Phoebe, whose name means "bright," to light his weary way, lift his load, and stand by him.
All of us can be such lights, and we can lighten the loads of other saints. Perhaps not all of us will be called to such positions of prominence as Phoebe, but all of us can care for the poor, the oppressed, and the orphaned. All of us can find great joy in standing by the family of God.
For Further Study: Romans 16:1-9  
Excerpted from The One Year Devotions for Women, Copyright ©2000 by Jill Briscoe. Used by permission of Tyndale House Publishers. All rights reserved.
For more from Jill Briscoe, please visit tellingthetruth.org.
SPECIAL OFFER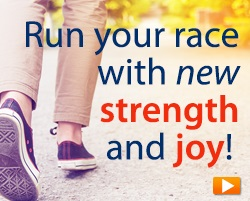 Run your race with new strength and joy!
The journey of faith is filled with rocky roads. When life isn't perfect it's easy to confuse the events of life with the absence of God. We want to send you Jill Briscoe's Faith Enough to Finish book to help you find the strength you need to endure life's tough times. Request your copy as thanks for your gift today!