But when the Holy Spirit controls our lives, he will produce this kind of fruit in us: love, joy, peace, patience, kindness, goodness, faithfulness, gentleness, and self-control. Here there is no conflict with the law. - Galatians 5:22-23
What is the evidence of the Holy Spirit's working in us? Present-tense Christianity doesn't live itself out in memories of past churchgoing but vibrates with vitality in the here-and-now. Our "sinful nature loves to do evil" (Galatians 5:17), and it can easily be fed with wrong food, such as what we see on TV, what we read, and what we think about.
Even after we become believers, we still have that sin nature, and it declares war on the Holy Spirit. The reason for this conflict of interests between the old and new natures inside a Christian is that the old nature wants to go on being sinful and selfish, while the new nature of Christ, imparted by the Holy Spirit, wants to be just like Christ! "The Spirit gives us desires that are opposite from what the sinful nature desires" (Galatians 5:17). Christ urges us not to give in to the selfish, insistent voice that tells us to shut our ears to the Spirit's prompting and do our own thing. He urges us to heed his whisper and obey his word. The prompter at a play stands in the wings, eyes fastened to the script. If an actor stumbles, the prompter is quick to prompt so that the actor can do and say the right thing at the right time. We need to listen to our prompter, Christ himself.
We are to keep in step with the Spirit. Only with his help can we live the holy lives that God wants us to live.
For Further Study: Galatians 5:16-26 
Excerpted from The One Year Devotions for Women, Copyright ©2000 by Jill Briscoe. Used by permission of Tyndale House Publishers. All rights reserved.
For more from Jill Briscoe, please visit tellingthetruth.org.
SPECIAL OFFER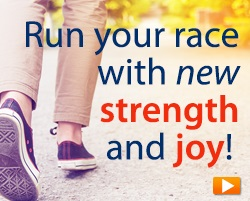 Run your race with new strength and joy!
The journey of faith is filled with rocky roads. When life isn't perfect it's easy to confuse the events of life with the absence of God. We want to send you Jill Briscoe's Faith Enough to Finish book to help you find the strength you need to endure life's tough times. Request your copy as thanks for your gift today!