From Praying the Names of God Week Sixteen, Day Three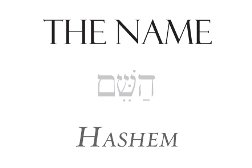 The Name
Shem is the Hebrew word for "name" (the "Ha" before it is the definite article). The Bible speaks of Solomon's temple in Jerusalem as the place where God's name would dwell—the place where his people could pray and be heard. Jesus himself prayed that the Father would glorify his name through him. He also promised to do whatever we ask in his name. Philippians 2:9-10 affirms that God has exalted Jesus and given him "the name that is above every name."
Key Scripture
Hear the cry and the prayer that your servant is praying in your presence this day. May your eyes be open toward this temple night and day, this place of which you said, "My Name shall be there," so that you will hear the prayer your servant prays toward this place. (1 Kings 8:28-29)
***
Wednesday
PRAYING THE NAME
You shall not take the name of the LORD your God in vain. (Exodus 20:7 NKJV)
Sing to the LORD, you saints of his,
praise his holy name. (Psalm 30:4)
Reflect On: Psalm 30
Praise God: Because he satisfies us with good things.
Offer Thanks: For God's justice and compassion.
Confess: Any tendency to speak or live in a way that dishonors God's name.
Ask God: To help you live in a way that daily honors his name.
I've been called by various names in my life, but the one I liked least was "Sally." No doubt there are many wonderful Sallys in this world, but I am not and never will be one of them. So it irritated me whenever I ran into a woman I knew who could never seem to remember my name. As soon as we saw each other, Judy would break into a big smile and exclaim, "Sally, how are you?"—like she really meant it, like she really cared. Despite my initial irritation, Judy and I eventually became good friends—after she started calling me by my real name, of course.
Even though it's important to get someone's name right, names today have far less significance than they did in biblical times. In the Hebrew Scriptures names sometimes reflected the character or even the destiny of the person. Abigail's first husband, for instance, was a dim-witted man named Nabal, whose name means "fool." Sarah, who laughed when an angel told her she would become pregnant at the age of ninety, gave birth to her son Isaac, which means "laughter." Abraham, who was a hundred years old when Isaac was born, means "the father of multitudes."
In God's case, there is an especially close relationship between his name and his nature. By revealing his name, God reveals who he is, allowing us access to him and placing himself within the reach of our prayers. Scripture tells us we can call on the name of the Lord and even take refuge in his name. By disclosing himself in this way, God not only makes himself accessible but vulnerable, allowing for the possibility that we will dishonor his name, using it as a common curse word or as a seal of divine approval on our own opinions or endeavors. We can also defile his name by claiming to belong to him though living in ways that contradict his character.
For more from Ann Spangler, please visit her blogspot on Christianity.com. And be sure to check out Ann's newest books on AnnSpangler.com.
---
Meet your spiritual ancestors as they really were: Less Than Perfect: Broken Men and Women of the Bible and What We Can Learn from Them.