In Touch Daily Devotional
by Dr. Charles Stanley
---
June 16 & 17, 2007 – A Present Father –
Proverbs 22:6
Dr. Stanley often thinks about his father. He tries to picture what it would have been like to grow up knowing his dad. When Dr. Stanley's was only nine months old, his father died. So he was brought up without an earthly father.
During his youth, Dr. Stanley never really gave it much thought. Then, many years into his ministry, and after he became a father, Dr. Stanley began to feel a cloud hanging over him. There was a mysterious sadness he couldn't identify.
Four close friends helped him discover that, as a child, he had subconsciously dismissed any thought about having a father. Because a dad wasn't around, Dr. Stanley simply deleted the idea from his life. He never realized how this affected his relationship with God.
Because his father was absent, Dr. Stanley had a distorted view of a "heavenly Father." Without realizing it, he created a distance between himself and God. His heart was resistant to an intimate Father-child relationship.
Embracing almighty God as his heavenly Father changed Dr. Stanley's life. He'll never forget the waves of emotion when he felt the tender love of a Father for the first time.
If you're a father, Dr. Stanley prays you'll be a present and active influence in your children's lives. They're looking at you more closely than you can imagine. Their view of God will forever be shaped by the time you spend with them. Show them what He's like. Be a godly dad to your children.
FEATURED RESOURCE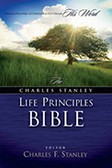 The Life Principles Bible
This Bible combines the wisdom of Scripture with the principles that guide Dr. Stanley's life and empower his ministry. Order your copy.
To see more resources from In Touch Ministries, please visit us at www.intouch.org or go directly to our bookstore at In Touch Ministries.