Monday, June 23, 2008  -  God's Master Plan of Finance  - Proverbs 11:24-25
To meet our basic needs for food, shelter, and safety, we need a certain amount of money. But, few of us are satisfied with the basics. We want more. Earning the money for our desired lifestyle sounds like a reasonable idea. Cash needed for a new home, a nicer car, or an exciting vacation. As we grow older, we think about having a large retirement income. Even our national economy reflects the idea that more is better. But there's a problem. Living to maximize our wallets and provide for our future is a self-centered philosophy, not a God-centered one.
While the world's plan is based on accumulating, the Lord's plan is based on giving. He expects us to minimize what we keep and maximize what we give away. He provides us with possessions so we'll invest them in His kingdom work and be a blessing to others. We're the way He'll carry out His purposes.
Does denying self and having less money seem unreasonable? For some, this way of thinking is. But the opposite is true for God's children. Our heavenly Father's revealed the way to experience joy and peace. We must place His interests above our own and follow His ways. That includes obedient giving. Start today! Commit to align at least one part of your finances with His plan.
FEATURED RESOURCE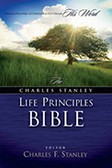 The Life Principles Bible
This Bible combines the wisdom of Scripture with the principles that guide Dr. Stanley's life and empower his ministry. Order your copy.
To see more resources from In Touch Ministries, please visit us at www.intouch.org or go directly to our bookstore at In Touch Ministries.