In Touch Daily Devotional
by Dr. Charles Stanley
---
May 3-4, 2008 -The Alternatives to Patience – Galatians 6:7-9 
Welcome to the In Touch Devotional.
Have you ever felt the Lord calling you to something really big, maybe a task that seems impossible or a goal that would take years to achieve? Most likely, some aspiration or God-given promise just came to mind. As you think about it, let's consider three common courses of action. 
First, we can take a shortcut. After all, if God makes a promise or gives us a goal, wouldn't He want us to attain it as quickly as possible? The answer is, "Not necessarily." God often gives a pledge years before He brings it to pass. When we try to manipulate circumstances and "help" the Lord fulfill His promise, we'll surely get in the way of the good things He has in mind for us. We should remember that part of the blessing will be the trust and wisdom gained while waiting.
Second, we can simply quit. Who wants to wait ten years for something? So, we just walk away, forget it, and try not to think about it any more. Just imagine hearing God's promise and then saying, "No, that would take too long. I'd rather move on to something else." What a tragedy!
Third, we can wait patiently and trust God for the blessing. This is clearly the best option, but sadly the one we often avoid. If someone were to say to you, "Ten years from today, I'm going to give you 10 million dollars," what would you say? Most likely, you would not respond, "No, thanks. I want it now or not at all." Why then, do we say that to God? He has tremendous blessings in store for you, if you're willing to wait.
FEATURED RESOURCE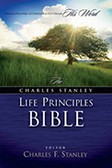 The Life Principles Bible
This Bible combines the wisdom of Scripture with the principles that guide Dr. Stanley's life and empower his ministry. Order your copy.
To see more resources from In Touch Ministries, please visit us at www.intouch.org or go directly to our bookstore at In Touch Ministries.