AUGUST 15 
Freedom from the Bondage of Sin 
"Therefore as by the offence of one judgment came upon all men to condemnation; even so by the righteousness of one the free gift came upon all men unto justification of life." Romans 5:18
One day Abraham Lincoln was in a slave market and saw a beautiful, young slave girl being auctioned. Lecherous men were bidding on her, so Lincoln began to bid. Finally, she was sold to Lincoln.
He took the certificate of sale and handed it to her saying, "You're free." 
She asked, "What do you mean free?" He said, "You are free." She said, "Free to do what I want to do?" He said, "Yes." "Free to say what I want to say?" He said, "Yes." "Free to go where I want to go?" He said, "Yes." She said, "Then I am going with you."
Friend, Jesus made you free. You have been redeemed by His precious blood. And in gratitude, your life is to be devoted to Him.
Do you know someone who is in bondage to sin today? Share with them the free, redeeming love of Jesus Christ. 
---
FEATURED RESOURCE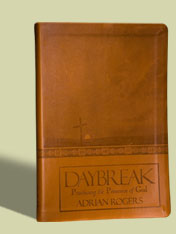 Daybreak: Practicing the Presence of God
This devotional journal with daily applications was designed several years ago by Adrian Rogers. This leather-bound keepsake will be a treasured addition to start your day out right!
Each day you will begin with a nugget from one of his messages, a reading from God's Word, and a place to write your "Spiritual concerns and prayer requests." Order your copy today.
For more Adrian Rogers' resources you may visit the Love Worth Finding bookstore at www.lwf.org.