The Tongue
The Bible says that if you can control what you say, everything else is a snap (cf. Jms.3:2). When it comes to our fallen humanity, nothing is more depraved than our mouths. The Bible says that our tongue is "a fire" and "a world of evil among the parts of the body" (Jms.3:6a). God says it can "set the whole course of your life on fire" and he even goes so far as to say that our tongues are "set on fire by hell" (v.6b). Wow! Talk about wake up call. God wants us to be sure we realize how much trouble our words can cause. It is because of this potential damage that the Bible gives us some very practical advice. Simply put, talk less! Or at least, make sure you pause and think hard before you start talking. In the words of the first chapter of James, we should "keep a tight rein" on our words and always be "slow to speak" (vv.26 & 19). So no matter who you are or where you're at in the Christian life, it is always a good idea to recommit yourself to policing your words and asking for God's help in governing your mouth.
-- Pastor Mike
JULY OFFER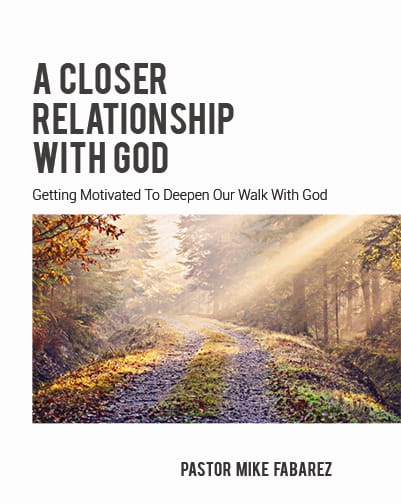 Relationships make up the fabric of our daily lives between family, friends, neighbors and co-workers. But there is no relationship as vital as the one that exists between us and our Maker. Apart from this divine relationship, we can never be satisfied. The longing we experience deep in our souls is evidence for the fact that we were created by God to enjoy Him and know Him. Tragically, this relationship was severed when sin entered the world. And yet, that God-shaped hole in our hearts is aching to be filled. That's where Jesus comes in. Through His sacrifice, not only were we declared innocent of our sin, the possibility for relationship with God was restored: "Therefore, brothers, since we have confidence to enter the holy places by the blood of Jesus … let us draw near with a true heart in full assurance of faith" (Hebrews 10:19, 22).
Nothing in life is more important than cultivating a deep, personal relationship with God. It is my sincere prayer that you are growing every day in your walk with Him, and that you find Focal Point an encouragement to you in the journey. As your relationship with God grows and develops, thank you for joining me in pointing others toward the satisfaction that is found only in Jesus. This month at Focal Point, we have selected the 5-part CD series from Hebrews 10 called A Closer Relationship with God: Getting Motivated to Deepen Our Walk with God as a way of saying thank you for your gift of any amount to the ministry.
Request A Closer Relationship with God by Pastor Mike Fabarez with your donation this month.
Click Here to visit Focal Point Ministries' website