Life Perspective
Do you long to see Christ face to face (1Cor.13:12)? Do you truly feel your citizenship is in another world (Phil.3:20)? Have you laid up sufficient treasure in heaven so that your hope is really set on the grace to be brought to you at the revelation of Jesus Christ (Mt.6:20; 1Pt.1:13b)? If so, most people will think you're crazy, but actually you'll be living out one of the fundamental virtues of New Testament theology. Longing for the next life is the expected result of a regenerate heart. You should, with the rest of God's people, be "eagerly awaiting a Savior from heaven – the Lord Jesus Christ" and together we should be "longing for a better country – a heavenly one" (Heb.11:16). When passion like this is absent in the hearts of professing Christians the Bible calls it "worldliness." We are told that a fondness for the present life is antithetical to loving God. John exhorts: "Do not love the world or anything in the world. If anyone loves the world, the love of the Father is not in him" (1Jn.2:15). Like Demas, you'll see a love for the world supplanting your zeal to risk and sacrifice in service for Christ (2Tim.4:9-10). Like Judas, you'll find that a love for the world's silver will be a source of chronic compromise (Jn.12:6). In contrast, like Paul, our willingness to continue on this planet should be out of a singular interest for the next one. Consider the conflict created by his passion for the next life: "If I am to go on living in the body, this will mean fruitful labor for me. Yet what shall I choose? I do not know! I am torn between the two: I desire to depart and be with Christ, which is better by far; but it is more necessary for you that I remain in the body" (Phil.1:22-23). May we genuinely be able to say with the apostle: "For me to live is Christ and to die is gain" (Phil.1:21). Maranatha! Come quickly Lord Jesus! (1Cor.16:22b; Rev.22:20).

-Pastor Mike
JULY OFFER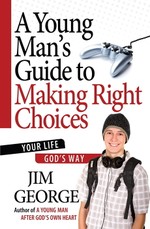 I can't tell you how many times I've sat down and counseled Christians who are trapped in destructive behaviors that hold them in bondage. They're stuck and can't break free. Most of us understand that God does not leave us helpless against temptation. He's given us two of the most powerful weapons in our fight against sin. First, the indwelling of His Holy Spirit. And second, the Word of God.
But sometimes it's tough to make right choices. Author Jim George shares principles from God's Word that will guide you toward making right decisions today and in the future.
Request ​A Young Man's Guide to Making Right Choices with your donation this month.
Click Here to visit Focal Point Ministries' website