Strength Amid Discouragement
In the pages of Scripture, even the most godly people periodically grapple with discouragement. Circumstances inevitably lead to feelings of hurt, loneliness and dejection. God's people are not immune to these kinds of bitter feelings, but what godly people provide is an example of what to do when we find ourselves in such dark times. In 1 Samuel 30 we read of David being personally opposed, betrayed and alone, with "everyone" turning against him. There were even rumblings among his so-called companions of secretly taking his life. David was obviously distressed and plagued with discouragement. David's godly response is described with a beautiful simplicity. The Bible says that "David found strength in the Lord his God" (v.6). He did what we should all do in our times of discouragement – he sought God. He spent time with the Lord, seeking his perspective and his direction. In the verses that follow, we find that God was faithful to provide it. David didn't choose to wallow in his pain, he discovered the next steps that God would have him take and he pursued God's will with courage and determination. He gave himself to doing what was right, even amid his personal pain, and God not only consoled his heart but he changed his circumstances. May you find strength in the Lord to do what is right the next time your heart is discouraged.
JULY OFFER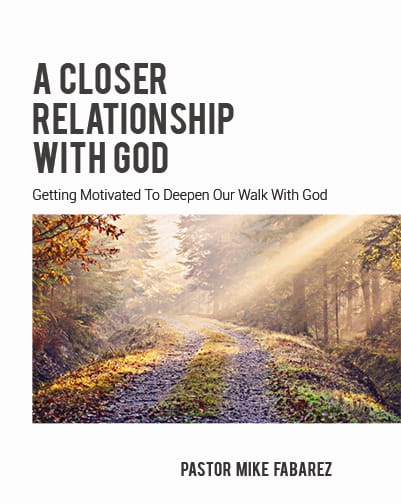 Relationships make up the fabric of our daily lives between family, friends, neighbors and co-workers. But there is no relationship as vital as the one that exists between us and our Maker. Apart from this divine relationship, we can never be satisfied. The longing we experience deep in our souls is evidence for the fact that we were created by God to enjoy Him and know Him. Tragically, this relationship was severed when sin entered the world. And yet, that God-shaped hole in our hearts is aching to be filled. That's where Jesus comes in. Through His sacrifice, not only were we declared innocent of our sin, the possibility for relationship with God was restored: "Therefore, brothers, since we have confidence to enter the holy places by the blood of Jesus … let us draw near with a true heart in full assurance of faith" (Hebrews 10:19, 22).
Nothing in life is more important than cultivating a deep, personal relationship with God. It is my sincere prayer that you are growing every day in your walk with Him, and that you find Focal Point an encouragement to you in the journey. As your relationship with God grows and develops, thank you for joining me in pointing others toward the satisfaction that is found only in Jesus. This month at Focal Point, we have selected the 5-part CD series from Hebrews 10 called A Closer Relationship with God: Getting Motivated to Deepen Our Walk with God as a way of saying thank you for your gift of any amount to the ministry.
Request A Closer Relationship with God by Pastor Mike Fabarez with your donation this month.
Click Here to visit Focal Point Ministries' website