5 Lessons from Joshua to Help You Overcome Discouragement (Joshua 1:9) - Your Daily Bible Verse - November 12
BIBLE VERSE OF THE DAY: "Haven't I commanded you? Be strong and courageous. Don't be afraid. Don't be dismayed, for Yahweh your God is with you wherever you go." Joshua 1:9
5 Lessons from Joshua to Help You Overcome Discouragement
By Kristi Woods
Joshua was a man who faced many battles. The term "leader" was pinned on his lapel. But I often wonder if discouragement tried to become chums with Joshua. After all, one of the first things God spoke to him after he became Israel's leader was to not be dismayed or discouraged. Let's take a look at our friend, Joshua, in order to gain fuel for our journey in overcoming discouragement.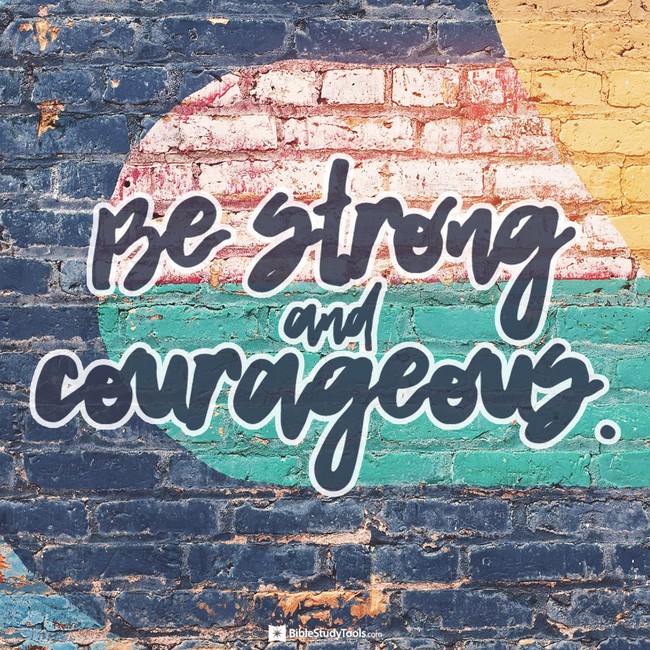 1. Remember the Commander
Joshua's battle with Jericho is widely known. There was a victory. But there was also a beginning, when the victory wasn't known. Hop back to the beginning of the book of Joshua:
"Haven't I commanded you? Be strong and courageous. Don't be afraid. Don't be dismayed, for Yahweh your God is with you wherever you go." Joshua 1:9
God reassured Joshua that He was with him – even before the battle began. When we walk where we're led and hear fear roaring, remember God and His words: Be strong. Be courageous. Haven't I commanded you?
2. Ask for Help
Oftentimes we need others to stand alongside us in the battle. Joshua experienced this with Moses.
"So Joshua did as Moses had told him, and fought with Amalek; and Moses, Aaron, and Hur went up to the top of the hill. When Moses held up his hand, Israel prevailed. When he let down his hand, Amalek prevailed. But Moses' hands were heavy; and they took a stone, and put it under him, and he sat on it. Aaron and Hur held up his hands, the one on the one side, and the other on the other side. His hands were steady until sunset." Exodus 17:10-12
Whether prayer warriors, mentors, pastors, counselors, or even a simple set of listening ears or a truthful tongue come alongside us, asking for help is often necessary.
3. Follow God's Counsel
Yahweh said to Joshua, "Behold, I have given Jericho into your hand, with its king and the mighty men of valor. All of your men of war shall march around the city, going around the city once. You shall do this six days. Seven priests shall bear seven trumpets of rams' horns before the ark. On the seventh day, you shall march around the city seven times, and the priests shall blow the trumpets. It shall be that when they make a long blast with the ram's horn, and when you hear the sound of the trumpet, all the people shall shout with a great shout; and the wall the city shall fall down flat, and the people shall go up, every man straight in front of him." Joshua 6:2-5 WEB
I don't know about you, but I might have questioned a seven-day march. But that's what it took to overthrow Jericho. Joshua was wise. His counselor – God, was even wiser. The end result of Joshua's obedience to God was an overthrow and victory.
4. It's About More than Us
"Be strong and courageous; for you shall cause this people to inherit the land which I swore to their fathers to give them." Joshua 1:6
When loser status hits, think big. The situation is likely about more than simply us. Darkness loves nothing better than to single us out, reminding us that it's only about us. That's not true. Our lives intersect with others' – that's God-ordained for His purposes. This battle and its outcome are about more than just us.
5. God is with Us
As I was with Moses, so I will be with you. I will not fail you nor forsake you. Joshua 1:5
Joshua had just taken over the leadership role. Mighty and humble Moses was gone. Joshua had big shoes to fill, and with God's help, he did.
Sometimes we have big shoes – or even little ones - to fill as well. There may be bumps along the way, but let's promise each other to keep this verse solidly before us, okay? God isn't in the business of failures. He's not an absent Father, either. No, when we feel like a loser, it's okay to tell those feelings to take a hike, to set them in prayer at the throne of the Almighty. After all, God is with us.
---
Editor's Note: Portions of this devotional were taken from 5 Lessons from Joshua to Help You Overcome Discouragement by Kristi Woods. You can read that article in full here.
We want to experience God through the Bible… we really do!
But our good intentions fall flat when reading the Bible just doesn't seem to help us experience God in a real way. What should feel alive often feels confusing and boring and irrelevant. But it doesn't have to.
In the How to Study the Bible podcast, pastor and Bible teacher Nicole Unice brings life back to reading the Bible by walking listeners through her Alive Method of Bible study, helping us personally encounter God through his Word by giving us a practical, clear road map for understanding, interpreting and applying Scripture to our lives. Just click below to start listening now!