Don't Ignore God's Call to Hospitality (Hebrews 13:2) - Your Daily Bible Verse - September 13
BIBLE VERSE OF THE DAY: Do not neglect to show hospitality to strangers, for by this some have entertained angels without knowing it. – Hebrews 13:2
Don't Ignore God's Call to Hospitality
By Drew Williams
The word translated in the Bible as "hospitality," philoxenia, literally means "lover of strangers." And so, practicing hospitality does not merely mean having your good friends over for the Super Bowl. It is a much bigger, broader idea. Biblically-speaking, hospitality is to do unto strangers as you would have done unto yourself — to love the unknown face, regardless of who he is and where you are. This kind of "other-centered" lifestyle requires that we first be aware of the needs of those around us. This means intentionally slowing down and looking out for the person that God may providentially place in our path to help.
Here is what truly happens when we practice hospitality: We become the open circuit of God's grace. John Piper wrote, "We experience the joy of becoming conduits of God's hospitality rather than being self-decaying cul-de-sacs. The joy of receiving God's hospitality decays and dies if it doesn't flourish in our own hospitality to others."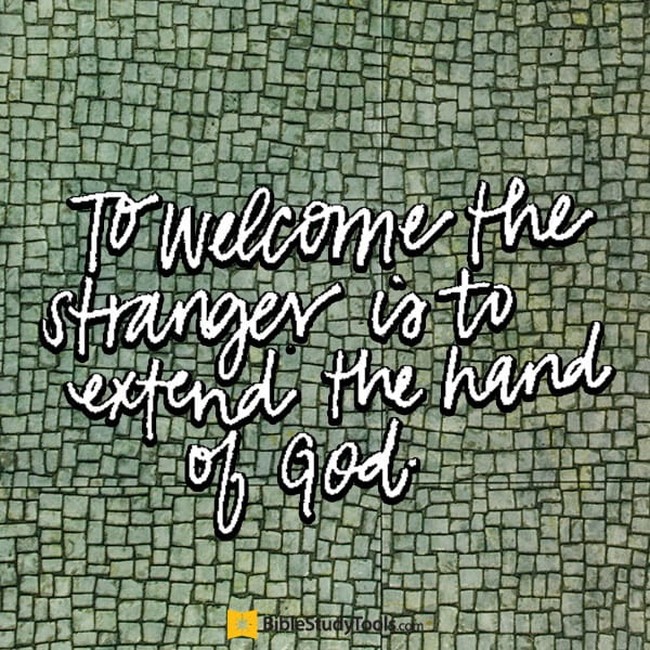 Perhaps there is another way to put it. When we take a step of faith and practice hospitality, we experience the joy of the love of God conquering our fears of rejection, our natural meanness of spirit and, as Piper so aptly puts it, "…all the psychological gravity of our self-centeredness."
The priest and writer, Henri J.M. Nouwen wrote, "Hospitality means primarily the creation of free space where the stranger can enter and become a friend instead of an enemy. Hospitality is not to change people, but to offer them space where change can take place. It is not to bring men and women over to our side, but to offer freedom not disturbed by dividing lines." Piper asks if there is anything "…greater than the joy of experiencing the liberating power of God's hospitality making us a new and radically different kind of people, who love to reflect the glory of His grace as we extend it to others in all kinds of hospitality." To welcome the stranger is to extend the hand of God, the same God who welcomes us without reserve.
Read more by Pastor Drew Williams on the Trinity Church blog. Content used with permission.
We want to experience God through the Bible… we really do!
But our good intentions fall flat when reading the Bible just doesn't seem to help us experience God in a real way. What should feel alive often feels confusing and boring and irrelevant. But it doesn't have to.
In the How to Study the Bible podcast, pastor and Bible teacher Nicole Unice brings life back to reading the Bible by walking listeners through her Alive Method of Bible study, helping us personally encounter God through his Word by giving us a practical, clear road map for understanding, interpreting and applying Scripture to our lives. Just click below to start listening now!