BIBLE VERSE OF THE DAY: "Because you are his sons, God sent the Spirit of his Son into our hearts, the Spirit who calls out, 'Abba, Father.'" – Galatians 4:6
He Lives in You
By Adrian Rogers
"Heavenly Father, fill our hearts with your spirit. Let us face the day with the knowledge that you are with us always. Amen."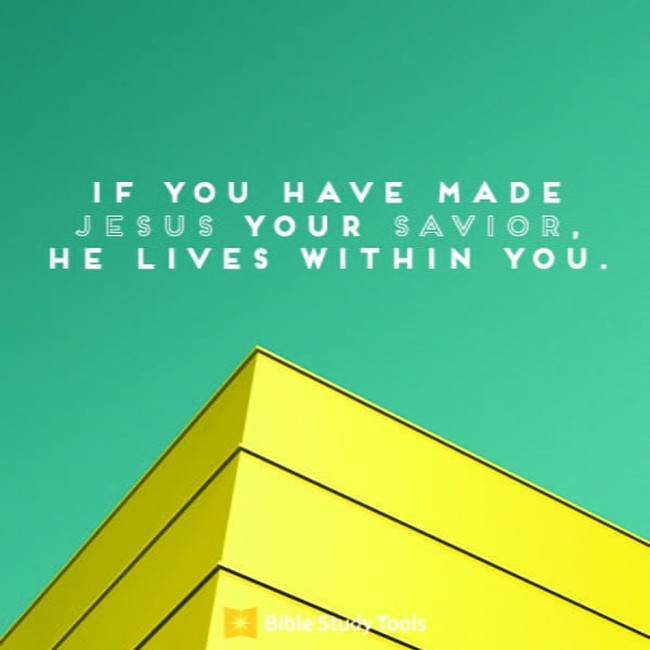 When I first got saved, I learned about Jesus in the Bible, and that was wonderful to me. And then as I began to live the Christian life, I would see what Jesus would do in the lives of other people, and I saw Jesus in history and Jesus in action, and that was wonderful. And then as I studied more, I began to learn about Jesus in heaven, ruling and reigning from His throne, and that was wonderful.
But I've learned a great truth, and that is that Jesus is in the Bible, and Jesus is in history, and Jesus is in heaven, but—here's the great truth—Christ lives in me. He has possessed me. I am His purchased possession, and therefore, I am under new management.
If you have made Jesus your Lord and Savior, He lives within you. You can rejoice today with the apostle Paul who said, "To whom God would make known what is the riches of the glory of this mystery among the Gentiles; which is Christ in you, the hope of glory."
Editor's Note: The following was adapted from Read the Sign: You're Under New Management by Adrian Rogers. To read the full devotional, follow this link.
Want more Your Daily Bible Verse? We also have a podcast! This podcast features different verses than the written devotional you just read, but carries the same commitment to a closer look at Scripture each day. You can find out more by clicking the link below!