Who Is Running This Place? (Colossians 1:16-17) - Your Daily Bible Verse - July 9
BIBLE VERSE OF THE DAY: "For by Him all things were created that are in heaven and that are on earth, visible and invisible, whether thrones or dominions or principalities or powers. All things were created through Him and for Him. And He is before all things, and in Him all things consist." - Colossians 1:16-17
Who Is Running This Place?
By Chris Russell
Imagine a universe in which everything is completely random. There is no order; there is no consistency; there is no purpose. What a horrible place that would be! Yet those who believe in a purely naturalistic explanation for the origin of the universe find themselves in precisely such a place.
I'm thankful that we can know that there is purpose, there is direction, and that there is order in the universe. This universe was designed, laid out, and is maintained by the Creator, the God of the universe, Himself. The laws of physics are such a beautiful picture of the great order that God gives to His creation. Not only has God created this world, but He is intimately involved in keeping everything running according to His perfect plan.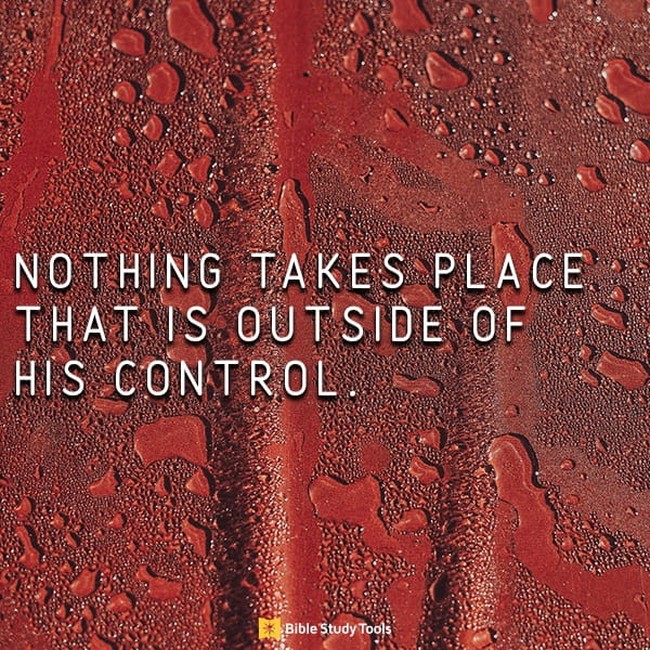 This truth actually brings us great comfort. I don't know if you've figured this out, but I have noticed over the many years that I've been alive that life does not actually turn out the way that I thought it would when I was much younger. As a matter of fact, life regularly takes turns that I never would have ever imagined in my early years.
Unexpected tragedies come. We experience loss. We experience pain, heartache, sorrow, failure, and despair. But knowing that God reigns on His throne on high is an incredible comfort. We can be assured that nothing takes place that is outside of His control. Take a moment to think about God's perspective on this universe. Consider God's perspective on your problems. God is not stressed out. God is not sitting on His throne wringing his hands in worry about how things are going to turn out.
As you go throughout this day, take time to ponder God's sovereignty. Meditate on the reality that He is in control of everything. Take time to ponder His sovereignty and how it makes a difference in your life. Consider how big of a deal that is.
TODAY'S BIG IDEA: "God is in control, and you can relax and trust in Him."
Editor's Note: This article was adapted from a blog post, found here.
We want to experience God through the Bible… we really do!
But our good intentions fall flat when reading the Bible just doesn't seem to help us experience God in a real way. What should feel alive often feels confusing and boring and irrelevant. But it doesn't have to.
In the How to Study the Bible podcast, pastor and Bible teacher Nicole Unice brings life back to reading the Bible by walking listeners through her Alive Method of Bible study, helping us personally encounter God through his Word by giving us a practical, clear road map for understanding, interpreting and applying Scripture to our lives. Just click below to start listening now!