God Is Our Hiding Place (Psalm 32:7) - Your Daily Bible Verse - April 21
God Is Our Hiding Place (Psalm 32:7)
By: Anne Peterson
Today's Bible Verse: You are my hiding place; You preserve me from trouble; You surround me with songs of deliverance. Selah. - Psalm 32:7
Fear. Our heart rates quicken. We want to run, or even hide. All of us at one time or another have felt fear. So what is our response? What do we do?
God is all-knowing. He knew we would experience a range of emotions. He created us that way. And there are times when fear alerts us of danger so we can take appropriate steps.
The problem is in this world we have an enemy. Satan loves it when we panic or feel paralyzed by fear. He knows it will make us feel helpless. And that's when Satan will whisper his lies to us.
Lies like:
God doesn't care about you.
If God cared, you wouldn't be going through this hard circumstance.
God has left you all alone.
But God gave us his Word. And in the Bible God promises he is with us in this world. And when we're faced with trials we can rejoice because God has overcome the world (John 16:33). We know God cares because God loves us so much he sent his Son to die for us (John 3:16). We also know we're not alone because God promised he would never leave us nor forsake us (Hebrews 13:5).
When we feel afraid we can make the choice to run to God. He is our hiding place (Psalm 32:7). God is a place of refuge. I can run to God whenever I need to, knowing I'll be safe. God will preserve us from trouble. And he will even surround us with songs of deliverance.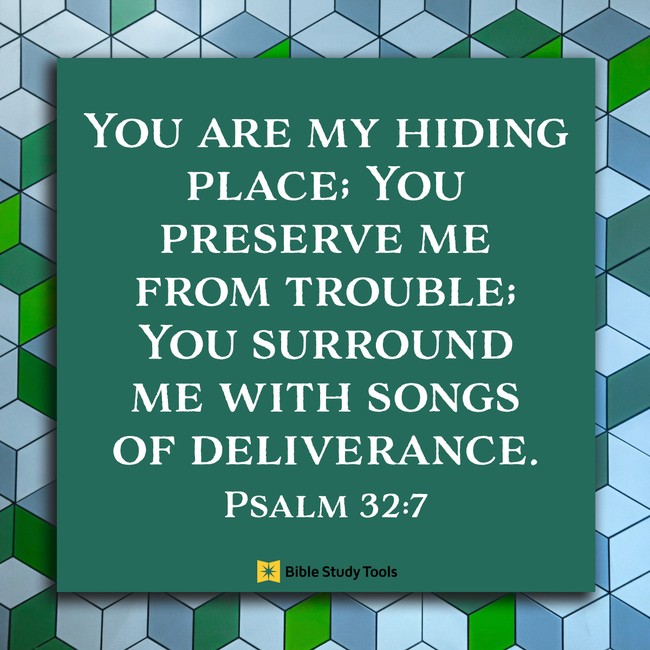 I love how God's Holy Spirit will remind me of hymns I learned years ago. When I start to doubt God's truth, the lyrics of a beautiful hymn will come to me just when I need it.
A hymn like, Great is Thy Faithfulness. I can't tell you the number of times God's Spirit has done this for me. And while I sometimes may forget other things, somehow these words stay with me.
The Apostle Paul reminds us that God will meet our needs (Philippians 4:13). Even those we haven't verbalized. We know this is true because as loving parents, we try to meet the needs of our children. And we have that desire because our Heavenly Father put that inside of us. He is the most loving Father there ever was.
This past year has been one of the hardest that many of us have gone through. And yet, God's Word remains true. No matter what we face, God is our sufficiency (2 Corinthians 3:5). So when you start to feel your heart racing, or you wonder how in the world you're going to get through the circumstances you are facing, let me remind you God is immutable. He does not change. His love is unfailing. And we can trust him.
The next time you feel your heart rate getting faster, take a minute and say to God, "Thank you, Lord, that you are with me and that You Are my Hiding Place.
---
Anne Peterson is a poet, speaker, published author of 16 books, including her latest book, Always There: Finding God's Comfort Through Loss. Anne's first memoir is: Broken: A story of Abuse, Survival and Hope. She has published children's books and poetry books, such as Droplets: Poetry for Those in Grief, and He Whispers: Poetic talks with God. Anne is also a regular contributor to Crosswalk.com. Anne's poetry has been sold in gift stores since 1996. Check out Anne's website at www.annepeterson.com or connect with her on Facebook.
We want to experience God through the Bible… we really do!
But our good intentions fall flat when reading the Bible just doesn't seem to help us experience God in a real way. What should feel alive often feels confusing and boring and irrelevant. But it doesn't have to.
In the How to Study the Bible podcast, pastor and Bible teacher Nicole Unice brings life back to reading the Bible by walking listeners through her Alive Method of Bible study, helping us personally encounter God through his Word by giving us a practical, clear road map for understanding, interpreting and applying Scripture to our lives. Just click below to start listening now!