Found by Those Not Seeking (Psalm 14:2) - Your Daily Bible Verse - December 28
Found by Those Not Seeking (Psalm 14:2)
By Jennifer Waddle
"The Lord looks down from heaven on all mankind to see if there are any who understand, any who seek God." - Psalm 14:2
As a little girl who was unusually tenderhearted toward the things of God, I grew up naively thinking that all people were just as sensitive to Him as I was. For a long time, I believed, deep down, that every person on earth was seeking evidence of God's presence and longing to know the Savior.
Yet, as I grew up and witnessed much of the world reject the God who made them, I've had to come to terms with fact that some have no desire to seek God or turn to Him for salvation. Honestly, the little girl in me is crushed at the thought!
As Psalm 14:2 says, "The Lord looks down from heaven on all mankind to see if there are any who understand, any who seek God."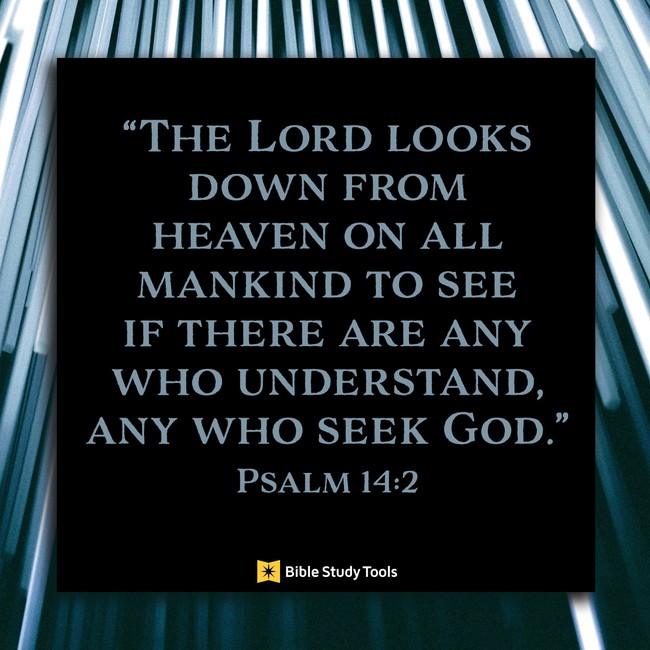 At first glance, this verse might seem depressing, as it indicates a world that lacks understanding and has no desire to seek the Lord. But I'd like to encourage us to view it as a verse of great hope. The Lord cares so much about His creation, He continues to look for those who might seek Him. He loves mankind so deeply, He searches the earth for any who are faithful to Him. He's not too busy or preoccupied to set His gaze upon us. He's not too holy or distant that He doesn't search for willing hearts.
Romans 10:20 drives this point home even further, as Paul recounts Isaiah's words: "I was found by those who did not seek Me; I was made manifest to those who did not ask for Me."
When God's people, Israel, rejected the Gospel, the Lord turned His hand of salvation to the Gentiles. Those who were not seeking Him, found Him. Those who were not asking for Him, were made aware of Him. Brothers and sisters, I don't know about you, but this gives me great hope. Even today, God can make Himself known to people who aren't even asking for Him!
John 1:5 says that although "the light shines in the darkness, the darkness has not understood it." As sad as this fact is, we can hold fast to 2 Peter 3:9 that reminds us it is God's will that none should perish. We can pray with boldness for God to make Himself known to a lost and dying world. And, we can cling to our child-like faith that believes, deep down, that somehow, God will be found by those not even seeking.
Let's pray, together, that a non-seeking world will recognize their desperate need for a Savior; that those not seeking will find what is needed most—repentance and salvation in Christ alone.
Gracious God, thank You for making Yourself manifest to us. We pray, today, for those who are walking in darkness—not seeking You or looking to You for salvation. We ask that You shine the light of Your Son so brightly, they will not be able to ignore it. We pray that You will knock loudly on every heart, even those who have hardened themselves against You. Thank You for continuing to move through a lost and dying world. We know You will pursue every heart until the very moment of Christ's return. It is in His name we pray. Amen.
---
Jennifer Waddle is the author of books and Bible studies for women, including Prayer WORRIER: Turning Every Worry into Powerful Prayer, and is a regular contributor for LifeWay, Crosswalk, Abide, and Christians Care International. Jennifer's online ministry is EncouragementMama.com where Discouragement Doesn't Win. She resides with her family near the foothills of the Rocky Mountains—her favorite place on earth.
We want to experience God through the Bible… we really do!
But our good intentions fall flat when reading the Bible just doesn't seem to help us experience God in a real way. What should feel alive often feels confusing and boring and irrelevant. But it doesn't have to.
In the How to Study the Bible podcast, pastor and Bible teacher Nicole Unice brings life back to reading the Bible by walking listeners through her Alive Method of Bible study, helping us personally encounter God through his Word by giving us a practical, clear road map for understanding, interpreting and applying Scripture to our lives. Just click below to start listening now!