Keeping Our Mouths in Check (Matthew 15:11) - Your Daily Bible Verse - December 30
Keeping Our Mouths in Check (Matthew 15:11)
By Lynette Kittle
Today's Bible Verse: What goes into someone's mouth does not defile them, but what comes out of their mouth, that is what defiles them - Matthew 15:11
When Jesus calls us to listen and understand, we want to tune into His words and pay close attention to what He is saying because it's of utmost importance.
So what topic was significant enough for Jesus to call the crowd together? In Matthew 15:10, we read, "Jesus called the crowd to Him and said, 'Listen and understand.'" What did He consider so vitally important for them to hear and understand? He said, "What goes into someone's mouth does not defile them, but what comes out of their mouth, that is what defiles them" (Matthew 15:11).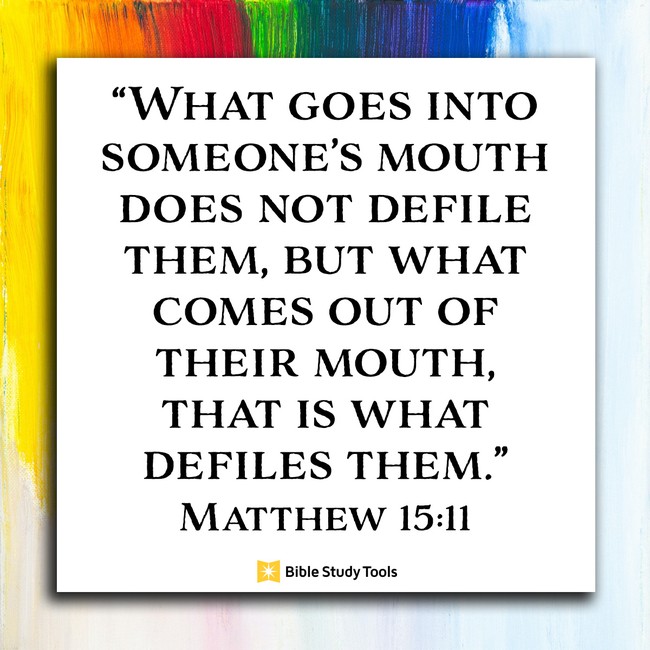 Nowadays we're living in a topsy-turvy world people are more concerned about what they eat than what they say. A culture where millions could care less about what comes out of their mouths.
Perhaps you've been surprised by things you've heard said not only by secular voices but also by some Christians? Maybe your own words have caught you off guard at times?
If so, Scripture reminds us, "Those who consider themselves religious and yet do not keep a tight rein on their tongues deceive themselves, and their religion is worthless" (James 1:26).
Facing Food Issues
Television networks like The Food Network and The Cooking Channel fuel our culture's obsession with food. Although many believe this focus on food is a new, modern, and enlightened view that has emerged in our world today, Scripture reveals how it's been an issue among people for a long time.
Matthew 15:12, describes how the religious leaders of the day responded to the comment by Jesus about what defiles a person. "Then the disciples came to Him and asked, 'Do you know that the Pharisees were offended when they heard this?'"
Food continues to be a very touchy subject, causing division among people who have varying attitudes and beliefs about its importance and value of it in our lives. Many individuals and groups are deeply concerned about how it's grown, cooked, harvested, and eaten.
Where Does Life and Health Come From?
Eating superfoods today in the hopes of extending one's life is a growing trend. Like the serpent deceived Eve in the Garden of Eden, the devil is still misleading people to believe long life and health comes through the earth and the food they eat rather than through God (Genesis 3:4-5).
Romans 1:25 points out how people through the ages have exchanged the truth about God with a lie, by worshipping and serving created things rather than the Creator.
Jesus calls us to be more concerned with what we say than what we eat, because it's not the food we put into our mouths that has the ability to dishonor us but rather the words that come out of it.
As Proverbs 18:21 explains, "The tongue has the power of life and death, and those who love it will eat its fruit."
Likewise, Proverbs 4:21-22 encourages us to keep God's words in our sight and within our hearts because His words are life to those who find them and health to our whole body.
---
Lynette Kittle is married with four daughters. She enjoys writing about faith, marriage, parenting, relationships, and life. Her writing has been published by Focus on the Family, Decision, Today's Christian Woman, iBelieve.com, kirkcameron.com, Ungrind.org, Startmarriageright.com, growthtrac.com, and more. She has a M.A. in Communication from Regent University and serves as associate producer for Soul Check TV.
We want to experience God through the Bible… we really do!
But our good intentions fall flat when reading the Bible just doesn't seem to help us experience God in a real way. What should feel alive often feels confusing and boring and irrelevant. But it doesn't have to.
In the How to Study the Bible podcast, pastor and Bible teacher Nicole Unice brings life back to reading the Bible by walking listeners through her Alive Method of Bible study, helping us personally encounter God through his Word by giving us a practical, clear road map for understanding, interpreting and applying Scripture to our lives. Just click below to start listening now!