The Life That Is the Light (John 1:4-5) - Your Daily Bible Verse - January 27
The Life That Is the Light (John 1:4-5)
By: Amanda Idleman
In him was life, and that life was the light of all mankind. The light shines in the darkness, and the darkness has not overcome it. - John 1:4-5
As believers, we have the joy of celebrating the life that is the light of all mankind! Our hearts swell with gratitude because light came down in the form of a precious baby to pierce the darkness that troubles this world. God was faithful to the promise he made to his people. He promised that we would not be left alone chained to a hopeless fate of sin and death but rather we would be saved by the sacrifice of a great rescuer!
In him was life and this speaks of the entirety of creation. It is through him that all creation was called into existence. Humanity was the highest creature made "in the image of God." The Bible tells us that God, "breathed into his nostrils the breath of life, and man became a living soul" (Genesis 2:7).
John is pointing to how Jesus was present at the beginning, in the Garden. From the moment sin entered the scene, he came up with a rescue plan for his beloved creation.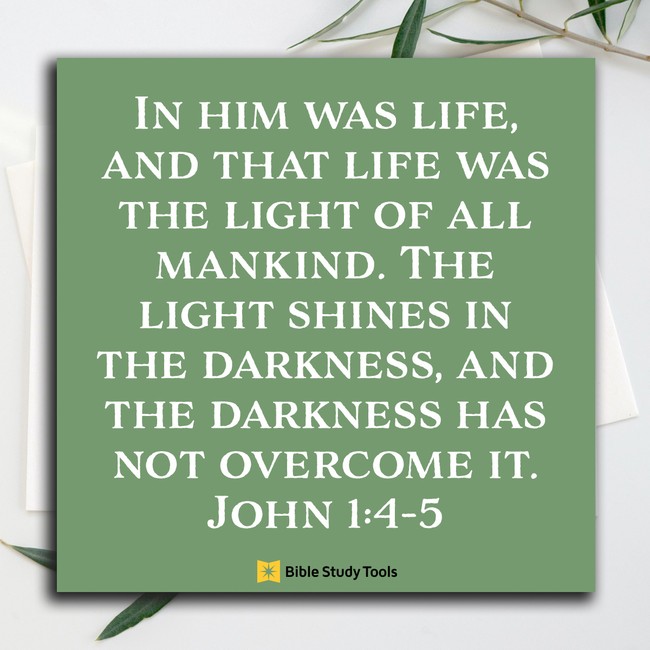 Even though our sin doomed us to experience death and suffering, God loved us so much that he was unwilling to leave us to our deserved fate. All the life that fills our planet and most importantly humanity came into existence because God spoke it into being. He desires to be with us and hates the way our sin and pride separates us from our Maker.
God sent his Son to be our light. He is the one absolute truth. Jesus is free from sin, full of all wisdom, and knowledge. Our source of life is the light that mankind needs to break us free from the lies that keep us bound up and lead us towards destruction.
That light came into our dark world and despite every effort of the darkness, it was not able to stop God's plan from coming to pass. No matter how bleak our circumstances seem when we have Jesus there is always hope. Not even death has the last word as we are given an eternal hope of Heaven when we accept Jesus into our lives.
The beautiful truth is that when we accept Jesus as our Savior he uses us to be a part of the light that pierces the darkness. We get to be those who reflect the light and life that created us. Matthew 6:10 says, "May your Kingdom come soon. May your will be done on earth, as it is in heaven." When we believe we become a partner in being the answer to this prayer. We can be a people who bring heaven down to earth.
Let's pause to thank God for not leaving us in the dark.
Thank you, God, for loving us so much that you did not want anyone to perish but want us all to accept your gift of eternal life (John 3:16). We thank you, God, for the light and life that pierced the darkness and continues to offer us access to unshakable hope. Help us see your light clearly wherever we walk today. In Jesus' Name, Amen.
---
Amanda Idleman is a writer whose passion is to encourage others to live joyfully. She writes devotions for My Daily Bible Verse Devotional and Podcast, Crosswalk Couples Devotional, the Daily Devotional App, she has work published with Her View from Home, on the MOPS Blog, and is a regular contributor for Crosswalk.com. You can find out more about Amanda on her Facebook Page or follow her on Instagram.
We want to experience God through the Bible… we really do!
But our good intentions fall flat when reading the Bible just doesn't seem to help us experience God in a real way. What should feel alive often feels confusing and boring and irrelevant. But it doesn't have to.
In the How to Study the Bible podcast, pastor and Bible teacher Nicole Unice brings life back to reading the Bible by walking listeners through her Alive Method of Bible study, helping us personally encounter God through his Word by giving us a practical, clear road map for understanding, interpreting and applying Scripture to our lives. Just click below to start listening now!