What it Means to Pray in God's Will (Matthew 21:22) - Your Daily Bible Verse - June 4
What it Means to Pray in God's Will (Matthew 21:22)
By: Betsy St. Amant Haddox

And whatever you ask in prayer, you will receive, if you have faith. - Matthew 21:22 (ESV)
Too many times, well-meaning Christians will read verses like Matthew 21:22 and think it means God is their personal genie, ready to grant their every wish so long as they have enough faith. Obviously, this doesn't work a lot of the time, which means people then default to thinking they didn't have enough faith. The lack of answered prayer was "their fault."
Prosperity-preaching ministers pounce on this, urging people to donate "in faith" to their ministry or "plant a seed" for their miracle. They effectively teach that with "enough faith" (or enough money, or enough perseverance) a person will receive exactly what they asked for. But that's not always the case.
It's easy to see how this mindset can spiral out of control. People going through an unwanted divorce might pray and ask God to change their spouse or heal their marriage. If it doesn't happen, that deserted spouse is then led to feel like he or she didn't have enough faith and their spouse didn't change because of their lack. In their minds, the divorce then becomes their fault. Yikes. Talk about salt in a wound!
Or someone might beseech God for healing for a family member or for themselves, and if the report doesn't come back as desired, they think they failed. Now they have the burden of sickness and a burden of feeling like they're just "not a good Christian."
There are unfortunately many damaging, false-prophet-type schemes out there that take advantage of people's misplaced understanding of Scripture. That's why it's crucial that believers understand what these verses are truly saying. For proper context, you must take the Bible as a whole.
For example, verses such as 1 John 5:14 help clarify Matthew 21:22 with an important distinction. And this is the confidence that we have toward him, that if we ask anything according to his will he hears us.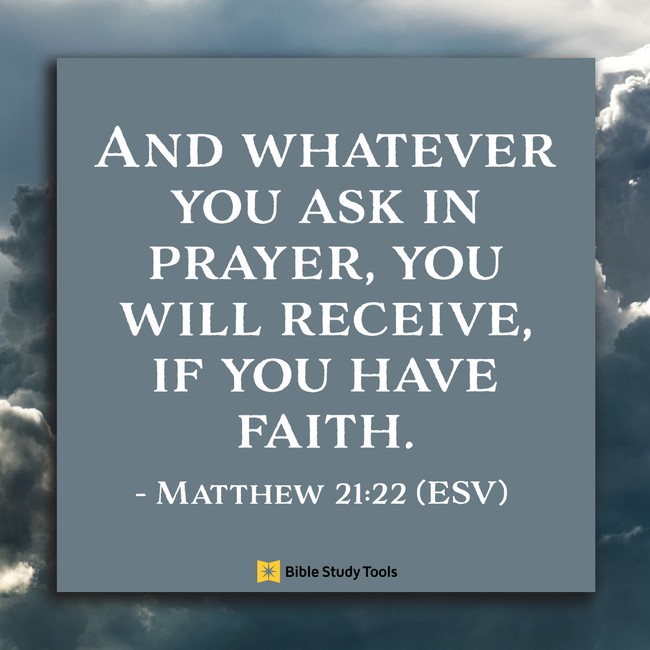 This verse shows us that in order to have what we are asking for, it must first be a part of God's will. That certainly changes things, doesn't it? We must remember that prayer isn't simply a means of asking for things, but rather, an opportunity to fellowship with our Father. Can you imagine the type of relationship you'd have with your earthly parent or spouse if the only time you talked to them was to ask them for a gift or blessing, or request them to take a particular action? It wouldn't be a very close-knit relationship, and it would probably feel very empty and one-sided.
The goal of prayer is to talk to God, and for Him to respond through His Word and the Holy Spirit. We submit our desires and supplications, our thanksgiving and praise to God, and He molds our hearts to more definitely reflect His. That's how our wills match up.
Consider James 4:3 (ESV) You ask and do not receive, because you ask wrongly, to spend it on your passions.
Too often, we pray with the wrong motive. Can you imagine how badly it would go, based on our limited understanding and perspective, to be given everything we wanted, every time we asked? It'd be a nightmare! God knows best—we do not. Our flesh and pride and sin get in the way and taint even our best efforts or purest attempts. Isaiah 64:6 tells us, We are all infected and impure with sin. When we display our righteous deeds, they are nothing but filthy rags. Like autumn leaves, we wither and fall, and our sins sweep us away like the wind.
Prayer isn't about begging God to change His mind to come around to our side of thinking—it's about God changing our hearts and minds to come around to His. Then our desires and requests are part of His will.
To pray with faith, pray sincerely. Pray from a heart eager to please God. Pray with a surrendered mindset that Father knows best. Pray for God's will to be done and for your desires to match His. Pray without ceasing. Pray fervently. Then watch God work. It might not look the way you wanted—in fact, it often does not. Because thankfully, God isn't a genie—He's so much more.
---
Betsy St. Amant Haddox is the author of more than fifteen inspirational romance novels and novellas. She resides in north Louisiana with her hero of a hubby, two total-opposite young daughters, a vast collection of coffee mugs, and an impressive stash of Pickle chips. Betsy has a B.A. in Communications and a deep-rooted passion for seeing women restored in Christ. When she's not sweating it out at Camp Gladiator or trying to prove unicorns are real, Betsy can usually be found somewhere in the vicinity of a white-chocolate mocha—no whip. Look for her latest novel with Revell, titled The Key To Love, coming October 2020. Visit her at http://www.betsystamant.com.
We want to experience God through the Bible… we really do!
But our good intentions fall flat when reading the Bible just doesn't seem to help us experience God in a real way. What should feel alive often feels confusing and boring and irrelevant. But it doesn't have to.
In the How to Study the Bible podcast, pastor and Bible teacher Nicole Unice brings life back to reading the Bible by walking listeners through her Alive Method of Bible study, helping us personally encounter God through his Word by giving us a practical, clear road map for understanding, interpreting and applying Scripture to our lives. Just click below to start listening now!