Believing God Is for Us (Romans 8:31) - Your Daily Bible Verse - March 10
Believing God Is for Us (Romans 8:31)
By Lynette Kittle
Today's Bible Verse: "What, then, shall we say in response to these things? If God is for us, who can be against us?" - Romans 8:31
Constantly changing events and breaking headlines can cause us to feel anxious and concerned about how our lives will be affected, worried by what's taking place in our nation and communities. It can seem like our whole world has been turned upside down, especially if we've been faithfully praying for different outcomes, ones we believe are God's will and in line with biblical truth.
When we see different results happening than what we were praying and hoping for, we may feel like God let us down, dashing our hopes and leaving us disillusioned.
Our disappointment can be difficult to navigate, and it takes time to recover. This is a journey that causes some to spiral down in despair and feel disconnected, unloved, and abandoned by God.
These heartbreaking feelings of defeat can shake a person's faith to the very core. It can cause much doubt and questioning as to whether or not God really cares about what happens to us.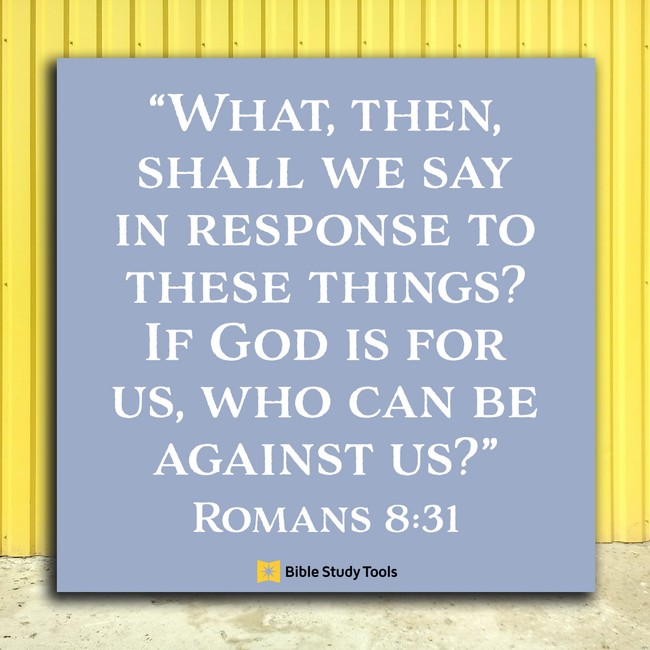 In times like these, the enemy swoops in to try and turn hearts against God, telling us untruths to doubt His faithfulness and His Word, to lead us to despair and to go off course in our walk with Him.
But we don't have to follow his devious lead. Psalm 136 reassures us over and over again that God's love never fails.
4 Truths to Tell Yourself for Daily Reassurance
Because God is truly for us, we don't have to wonder day-by-day whether it's true or not but can look to His word to daily reassure ourselves. Below are four Scriptures to help us believe God is for us.
1. Remember Who lives within us. "You, dear children, are from God and have overcome them, because the One who is in you is greater than the One who is in the world."
The enemy tries to tell us we have been forgotten by God but 1 John 4:4 reminds us where we come from and whom we serve.
2. Dwell on God's faithfulness. Psalm 108:4 explains, "For great is Your love, higher than the heavens; Your faithfulness reaches to the skies."
Chaotic times urge us to take our eyes off God and look at what's going on around us. But rather than focus on earthly circumstances, we can dwell on all the ways He has shown His faithfulness to us all throughout our lives.
3. Consider God's love. "Because of the Lord's great love we are not consumed, for His compassions never fail. They are new every morning; great is Your faithfulness" (Lamentations 3:22,23).
Although the world offers a kind of love that fluctuates on people's up-and-down feelings, here one day and gone the next, God's love for us remains steadfast.
4. Believe God is with us. "Be strong and courageous. Do not be afraid or terrified because of them, for the Lord your God goes with you; He will never leave you nor forsake you" (Deuteronomy 31:6).
Even when the world around us is shaken, God will not abandon us.
---
Lynette Kittle is married with four daughters. She enjoys writing about faith, marriage, parenting, relationships, and life. Her writing has been published by Focus on the Family, Decision, Today's Christian Woman, iBelieve.com, kirkcameron.com, Ungrind.org, Startmarriageright.com, growthtrac.com, and more. She has a M.A. in Communication from Regent University and serves as associate producer for Soul Check TV.
We want to experience God through the Bible… we really do!
But our good intentions fall flat when reading the Bible just doesn't seem to help us experience God in a real way. What should feel alive often feels confusing and boring and irrelevant. But it doesn't have to.
In the How to Study the Bible podcast, pastor and Bible teacher Nicole Unice brings life back to reading the Bible by walking listeners through her Alive Method of Bible study, helping us personally encounter God through his Word by giving us a practical, clear road map for understanding, interpreting and applying Scripture to our lives. Just click below to start listening now!