Forget the Former Things (Isaiah 43:18-19) - Your Daily Bible Verse - March 28
Forget the Former Things (Isaiah 43:18-19)
By Heather Riggleman
"Forget the former things; do not dwell on the past. See, I am doing a new thing! Now it springs up; do you not perceive it? I am making a way in the wilderness and streams in the wasteland." - (Isaiah 43:18-19)
The world is full of coyotes. We are one and the same with these little creatures. In fact, when I was a child, my family had one for a pet. My dad found her wandering and alone; then he discovered her mother had been killed. Chances were slim for her to survive on her own. So, we named her Gypsy.
The downside of having a wild animal as a family member was the distractions. It was in her DNA, she would chew through roots, vines, and her own leash because she wanted to chase what was in front of her. Squirrels, rabbits, birds, snakes, and even semi-trucks.
Like Gypsy, I found myself chasing things I thought would make me whole. I got caught up in being a mom, wife, employee, and cared about what others thought about me more than I cared about the thoughts of God.
How easy is it to fall down the rabbit hole of perfectly filtered Instagram posts or Facebook? Why do we say 'yes' to something we know is going to take us away from God? Why do we overpack our schedules? Before too long, we're lost and wandering in the desert. We're thirsty and parched and in need of finding our way home.
We all have distractions in our lives. Those little pests waiting to wreak havoc the moment our eyes settle on it. God knows that too. That's why He reminded us in Isaiah 43:19 that He will rescue us. Today's key verse reminds us no matter how far we wander, no matter the distractions or detours, God is making a way back for us.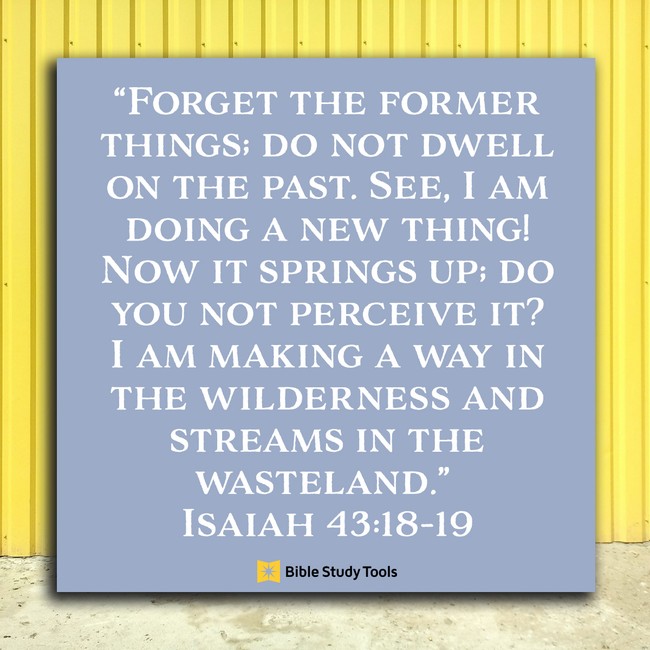 The prophet Isaiah spoke these words to Israel during a time when they were in captivity. They assumed God wanted nothing to do them anymore because their hearts had wandered so far from him. The Israelites thought they didn't deserve anything from God. Yet God doesn't condemn His children; instead, He made a way back to Him. A way out of the mess. A way out of the desert.
God responded to their wandering hearts: Forget the past. Whatever you've done or how far you've strayed, I'm doing a new thing. I am making a way in the desert.
Wherever you find yourself today, know that God is doing a new thing in your life. Our key verse from Isaiah teaches us how to embrace all He is doing. Forget the former things. Focus on the here and now, and commit to the way God is making for you. Will you focus your sights on Him?
---
Heather Riggleman is an author, freelance writer, speaker, award-winning journalist and podcast co-host of the Moms Together Podcast. She calls Nebraska home with her three kids, her husband of 22 years, and two obsessive cats that follow her everywhere. She believes Jazzercise, Jesus, and tacos can fix anything and not necessarily in that order! She is the author of I Call Him By Name Bible Study, the Bold Truths Prayer Journal, Mama Needs a Time Out, and Let's Talk About Prayer and a contributor to several books. Visit www.heatherriggleman.com or on Facebook.
We want to experience God through the Bible… we really do!
But our good intentions fall flat when reading the Bible just doesn't seem to help us experience God in a real way. What should feel alive often feels confusing and boring and irrelevant. But it doesn't have to.
In the How to Study the Bible podcast, pastor and Bible teacher Nicole Unice brings life back to reading the Bible by walking listeners through her Alive Method of Bible study, helping us personally encounter God through his Word by giving us a practical, clear road map for understanding, interpreting and applying Scripture to our lives. Just click below to start listening now!