Rejoice and Be Glad Today
By: Lia Martin
Today's Bible verse is Psalm 118:24 - This is the day the Lord has made; let us rejoice and be glad in it.
Far more than a sunny platitude, this powerful verse celebrates God's strength to call forth morning from our darkest nights of the soul. It's not a command to "get happy," but rather an awestruck gratitude for God's steadfast love.
Living in the light of the New Testament, modern-day Christians are privy to the realization of biblical prophecy. As is often beautifully the case throughout Scripture, this "day the Lord has made" isn't only the very day that the psalm singers are celebrating deliverance and freedom, but foretells of "the day" for all humanity to rejoice.
Parts of this psalm reach through time to connect us with the conclusion of the Last Supper when the disciples sang a hymn with Jesus. On the day Christ prepares to redeem humanity from sin, they sing from this psalm "This is the day the Lord has made; let us rejoice and be glad in it."
Was there suffering in the lives of God's people as they sang to him in Psalm 118? Loads. But did God come through as promised? Indeed.
It's true that the Lord makes this very day, too, for us to rejoice in. But my heart swells with the knowledge that God saw the day in Psalm 118; long before Jesus entered Jerusalem on a donkey amidst 'hosannas' and praise. The day the psalm sings about corresponds with an even better day ahead.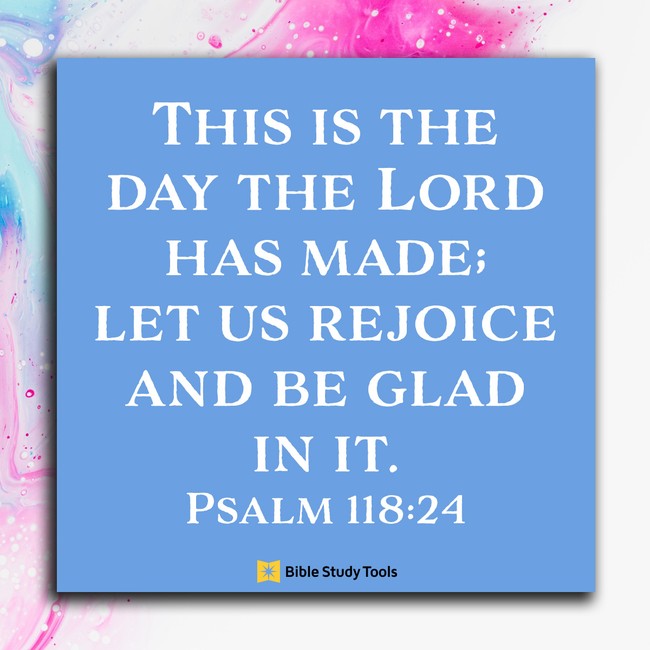 God was there, guiding, when the psalms were being sung. And he most definitely sees the glory coming.
So, even if you're wandering in the desert or heading into or coming out of a struggle, the song in your heart is there to pull you through.
Psalm 118 also includes "blessed is he who comes in the name of the Lord." This line is again famously shouted in Luke 19:38 on a day so glorious (what we now celebrate as Palm Sunday) that when the Pharisees reject this nonsense rejoicing, Jesus rebukes them in Luke 19:40 with:
"I tell you," he replied, "if they keep quiet, the stones will cry out."
This joy, is uncontainable. It's in response to glory revealed and realized.
This is the kind of day that the Lord makes. A day of eternal, miraculous significance. And days riddled with anguish and pain and destruction. And even when his people were, as the psalm says, "in anguish," "about to fall, and "rejected," the Lord makes his "light shine upon us," as it says in Psalm 118:27.
He makes this day. He made that day when the house of Aaron proclaimed "His love endures forever," and every day...from the beginning of time through eternity.
The comfort in Psalm 118:24 is that no matter what the day looks like to you, God created it with reason to rejoice and be glad. His plan is good. And his word here has power to raise your spirit.
Borrow Psalm 118:24 today or Psalm 118:28 which says "You are my God and I will give you thanks; you are my God and I will exalt you." Sing, pray, shout, or whisper it to the One who made this day possible.
Consider his majesty to raise Christ from death as he makes light shine upon you this day. No matter what your place in history feels like to you today; the opening and closing verses of this psalm bookend the story with assurance: God is good...and his love endures forever.
Rejoice, and be glad in it!
---
Lia Martin loves to inspire others to lean into the Lord daily. She's a writer, editor, marketer, former Crosswalk.com Faith Editor, and author of Wisdom at Wit's End: Abandoning Supermom Myths in Search of Supernatural Peace. When she's not cultivating words, she loves walking in nature, reading, exploring the latest health trends, and laughing with her two wonderful kids. She blogs at liamartinwriting.com.
Want more Your Daily Bible Verse? We also have a podcast! This podcast features different verses than the written devotional you just read, but carries the same commitment to a closer look at Scripture each day. You can find out more by clicking the link below!