Believing God Is Pleased with Us (Luke 3:22)
By Lynette Kittle
"And the Holy Spirit descended on Him in bodily form like a dove. And a voice came from heaven: 'You are my Son, whom I love; with you I am well pleased.'" - Luke 3:22
Floating around the pool on a 100+ degree summer day, it was a sweet, unexpected moment when a white dove and his companion landed in the waterfall fountain for a drink. After taking several drinks and splashing around in the water, the pair flew over me as they left the water.
It was such a lovely moment, one that turned my thoughts to Luke 3:22. "And the Holy Spirit descended on Him in bodily form like a dove. And a voice came from heaven: 'You are my Son, whom I love; with you I am well pleased.'"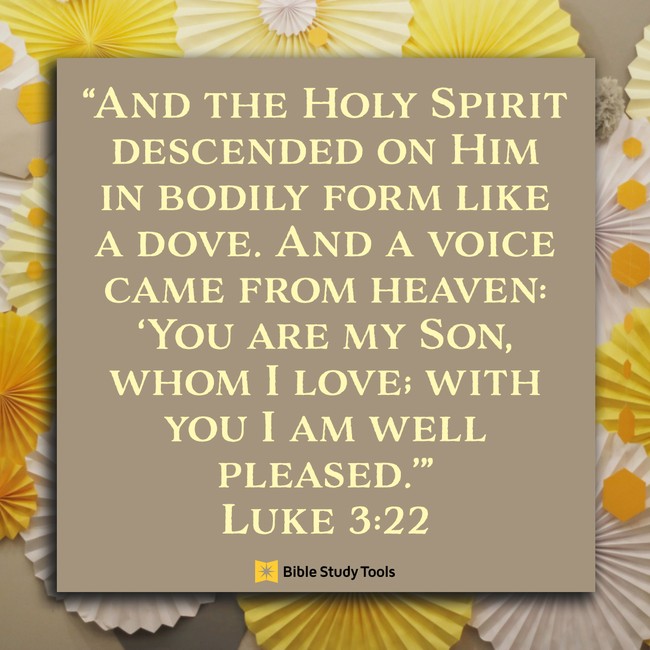 Often when we read passages like this, it's easy to think, "Well of course, it was Jesus, God was talking about, so how could He not be well pleased with Him?"
Yet, we usually don't believe God feels the same way about us. We tend to think He is looking at us in a critical way, seeing our weaknesses and failings rather than believing how Scripture says He sees us.
Once we accept Jesus as our Savior, everything God sees in Him, He now sees in us, too. Colossians 3:3, explains, "For you died, and your life is now hidden with Christ in God."
Likewise, Galatians 2:20 states, "I have been crucified with Christ and I no longer live, but Christ lives in me. The life I now live in the body, I live by faith in the Son of God, who loved me and gave Himself for me."
When we accept God's gift of Salvation, we, too, become His loved sons and daughters. Like Ephesians 4:24 describes, we put on the new self, created to be like God in true righteousness and holiness. In Christ, we become God's beloved children in whom He is well pleased.
Still, it's a hard concept for many of us to grasp, for us to believe God sees us this way, so sometimes He helps us to understand in ways it's easier for us to comprehend.
For example, my daughters and I have fun playing a karaoke video game called "Sing It." In it, each player creates a virtual character, chooses a song and virtual venue, and sings to a virtual crowd. Singing into a microphone, performance scores add up. As a player excels, they are rewarded onscreen with a radiant glow surrounding their character, along with music notes flowing from the microphone.
One night in a dream, I was on the "Sing It" stage, surrounded by a soft glowing light with music notes flowing from my microphone.
In waking up, I sensed God assuring me of His pleasure in me in a way I understood, turning my thoughts to 1 John 3:1. "See what great love the Father has lavished on us, that we should be called children of God! And that is what we are!"
---
Lynette Kittle is married with four daughters. She enjoys writing about faith, marriage, parenting, relationships, and life. Her writing has been published by Focus on the Family, Decision, Today's Christian Woman, iBelieve.com, kirkcameron.com, Ungrind.org, Startmarriageright.com, growthtrac.com, and more. She has a M.A. in Communication from Regent University and serves as associate producer for Soul Check TV.
Want more Your Daily Bible Verse? We also have a podcast! This podcast features different verses than the written devotional you just read, but carries the same commitment to a closer look at Scripture each day. You can find out more by clicking the link below!