A Prayer for a Discontented Heart - Your Daily Prayer - November 29
A Prayer for a Discontented Heart
By: Chelsey DeMatteis
Rejoice in hope, be patient in tribulation, be constant in prayer. - Romans 12:12
Discontentment isn't a feeling we freely usher in. No, discontentment, like many other negative feelings, seems to sneak in the back door of our hearts. What began as a day of simple frustrations turns into the theme for the week, which somehow snowballs into a seemingly long season of our life. If I'm being honest, I think we may be the most discontented, disappointed people I've seen in my generation. We've allowed the back door feelings to take the stage of our lives and start fighting for the throne of our hearts.
This takes me straight to Eve, in the garden, when discontentment plagued the heart of man. Satan came to Eve, questioning "Did God actually say you shall not eat of any tree in the garden?" (Genesis 3:1).
Here we have it, the inkling of discontentment shuffled in the back door of her heart, the same way it does for you and me. Something that has always struck me when reading the Bible, especially the New Testament, is how often we are reminded that tribulation and trials will occur. It's a promise that we will endure hard things, but we won't endure them alone.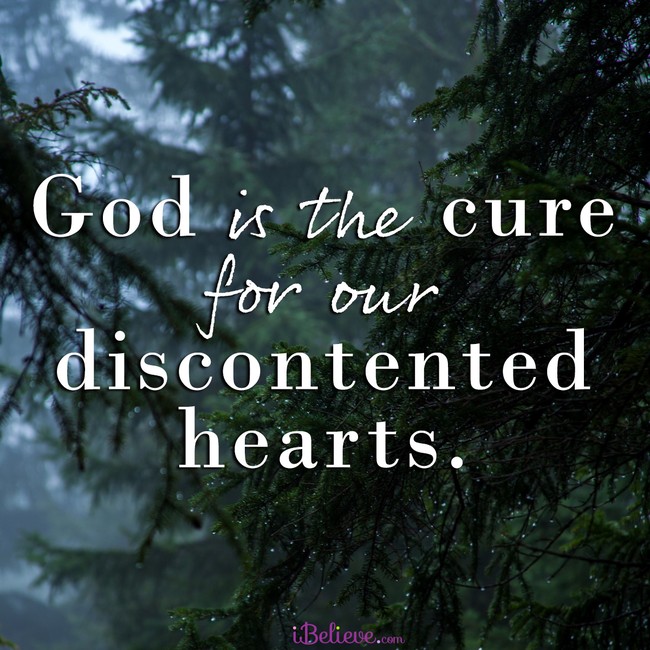 Just like Eve's moment of discontentment, I think of Nicodemus, who was a Pharisee. He sought out Jesus, our Savior, in the middle of the night to answer the questions he was wrestling with.
What a picture that is for us. A man running to Jesus with his heart full of questions. Instead of turning to converse with the enemy, Nicodemus ran to the loving heart of our Savior. We see two beautiful, encouraging things happen here. First, Jesus met Nicodemus right where he was, and He shared the Good News, which is what we find in John 3:16.
Second, we see that the Lord is always willing to come alongside us in our seasons of struggle, discontentment, and failure. The Lord wants to heal the discontentment in our lives because a heart left unattended in this sin will turn into spiritual heart failure: dry, weary, and distant.
As we grow in learning God's Word, we begin to see His heart more clearly. We see that He is the cure for our discontented hearts. He stands ready to guard the back door of our hearts from this sin that so easily entangles us. Though this area may be one we battle more often than we would like, we now know how we can pray when it comes.
Pray to feel the Lord's presence where we are, trust in the truth that God is guarding our hearts, and remember that trials will come but we never endure them alone when we are in Christ.
Pray with me...
Lord,
As I walk through life's disappointments, I pray for a hedge of protection around my heart. Discontentment sneaks in to steal and kill the joy you have in my life and I rebuke it. Help me live in the posture of readiness to stand firm against attacks and gird myself in your promised grace over my life. Help me cultivate a habit of thanksgiving, help my eyes be quick to see your grace, help my tongue be quick to praise you.
In Jesus' name, Amen.
---
Chelsey DeMatteis is a wife, SAHM, devotional writer, and the host of the weekly aired Living With Less podcast, birthed from John 3:30. Chelsey loves serving in her local church ministries, but the greatest ministry she loves to watch unfold is the one that happens in her heart and in her home. You can find more about Chelsey at her website - www.ChelseyDeMatteis.com.
Teach Us to Pray is a FREE prayer podcast hosted by iBelieve writer Christina Patterson. Each week, she gives you practical, real-life tips on how to grow your faith and relationship with God through the power of prayer. To listen to her episode on What to Pray in the Morning for a Worry-Free Day, click below!


Now that you've prayed, are you in need of someone to pray for YOU? Click the button below!
Visit iBelieve.com for more inspiring prayer content.