A Prayer for a New Home - Your Daily Prayer - June 17
A Prayer for a New Home
by Bethany Pyle
"For we know that if the earthly tent we live in is destroyed, we have a building from God, an eternal house in heaven, not built by human hands." - 2 Corinthians 5:1
In the midst of organizing everything for a move to a new city, I did what most people my age do in stressful situations: I called my mom. She listened to my worries and reminded me of the time she, my dad and their new baby (not me) hopped a plane to South Korea. They'd been ordered there for the next three years, and my mother was furious.
The language was unfamiliar, the food was beyond strange, and all of her friends and family were on the other side of the world, literally. It made my own move within the state seem so insignificant.
But whether God is leading you to the next town or across the world, moving is stressful. Everything is new and unfamiliar and uncomfortable. It's hard to feel "at home" in this new environment, at least for a while. Scrambling for something familiar, perhaps you rush to have the house set up as soon as possible, or spend all your time on the phone or online with old friends. We are creatures of comfort, and we long for something familiar and homey.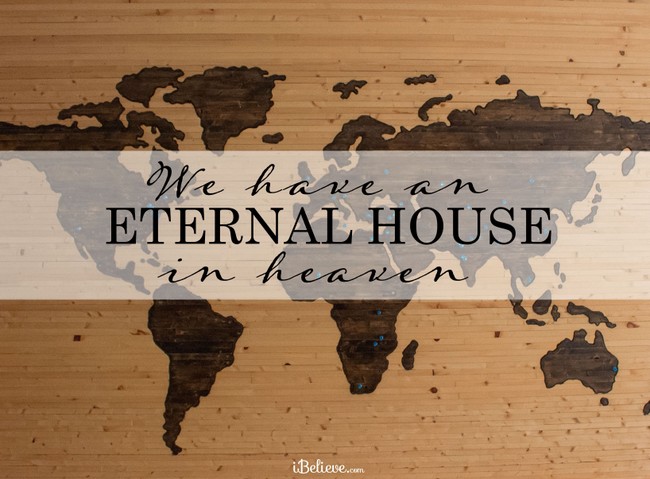 But in the midst of so much change, one thing in our lives never will change: our salvation in Christ. He is the same today, tomorrow and forever, no matter where you find yourself calling home. You may have left a favorite restaurant, friends or belongings behind, but God will follow you no matter where you go, and He has an incredible plan for this new home of yours.
In Genesis 12, God calls Abram to leave the land he had lived in his whole life – over 70 years – and he does it without a second thought! Along the way he stops periodically to build altars to God and praise Him for providing. Because of his faithfulness, God promises to make Abram's descendants more numerous than the stars.
He wants to be the center of your new home too. Commit to taking some time out of the craziness to spend time with Him, and He will guide you through this new season. Whatever brought you to your new home, and however you feel about it, God has it all planned out. Take a deep breath, and trust.
He blessed Abram in a strange land. He guided my mother through Korea as she eventually fell in love with the people and culture. He will help you settle in wherever you find yourself.
Dear God,
I thank you for bringing me and my family safely to this new home, and for all the new opportunities that it brings. I pray for peace in this time of transition, when everything feels new and unfamiliar. Lord, I trust that you will lead me into community that will help me to grow, and that you will use me to shine your light to my new neighbors and coworkers. Help me to remember to set aside time to spend with you, even when it feels like the tasks are piling up. God I pray that you would bless this home and bring joy to these rooms. Help us to be welcoming and hospitable to all who enter, showing them your love in all seasons. Thank you that you are always in control and that you never change, even when everything in my life feels unfamiliar. Help me to draw nearer to you in this new chapter of life.
Amen.
Teach Us to Pray is a FREE prayer podcast hosted by iBelieve writer Christina Patterson. Each week, she gives you practical, real-life tips on how to grow your faith and relationship with God through the power of prayer. To listen to her episode on What to Pray in the Morning for a Worry-Free Day, click below!


Now that you've prayed, are you in need of someone to pray for YOU? Click the button below!
Visit iBelieve.com for more inspiring prayer content.