A Prayer for God to Examine Our Heart and Thoughts
By Tiffany Thibault
Search me, God, and know my heart, test me and know my anxious thoughts. See if there is any offensive way in me and lead me in the way everlasting. - Psalm 139:23-24
Search me, God and know my heart. To tell God to search us and to know us in the deepest part of our very being is a very bold request indeed. It takes incredible bravery to ask God to do this. It is an asking that will expose every detail, every thought, every emotion and every sin that stands in the way of us living an abundant life. It is an asking that will have results. It is an asking that will change our lives. Truth will be exposed and laid out.
Test me and know my anxious thoughts. The mind is so amazing! It can imagine so many possibilities, dreams and adventures. It can remember details from circumstances decades before. It can create moments of beauty. It can plan, organize and orchestrate a tremendous amount of details such as planning a beautiful wedding, or exploring medical cures.
The mind is also very intricate and can dive into multiple layers of logic, thought and emotion. It travels in an amazing way through thoughts of reason, weighing and discarding poor choices to make better decisions. Our thoughts can also be easily manipulated by our emotions, our tired moments and the stress that life can bring our way.
Our thoughts can become so consuming that we allow them to grow until they take over our intuition, over our judgment, and just about every detail of our lives.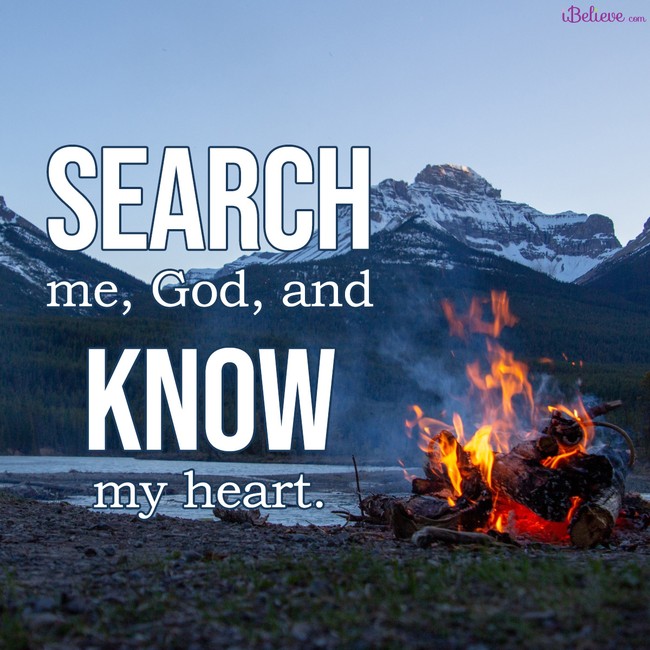 If we truly desire to become closer to the Lord, then we will spend more time in prayer and in studying the Bible, which will cause our thoughts and our lives to be filled with the peace that comes only from God.
See if there is any offensive way in me and lead me in the way everlasting. If we truly desire to become closer to the Lord, then our hearts will cry out for the Lord to change every offensive way in us. The more the Lord reveals our sins, the more we repent and are cleansed of every offensive feeling, thought and action. This continual action will make us more holy and will make us more like Jesus. Matthew 7:14b says this: "... narrow the road that leads to life, and only a few find it." Until we are brave enough to allow God to search us, know us, and test our every thought, we will not be ready to be led in the way everlasting.
Dear God,
My mind is full of so many thoughts. I am full of fears about things that are happening in the world around me that cause me to worry and to fret. I am full of worry about things that affect my family and friends, that are causing heartache in their hearts and lives. I am full of busy thoughts of how to improve certain situations, things I must remember to complete on my to-do list. Lord, examine my heart and thoughts. Please calm down the thoughts that are causing me anxiety. Lord, please help me to make decisions based on peace, instead of panic.
Lord, If there are any thoughts that are offensive or that will hurt me or someone else, please remove them so that I can move through my day filled with the thoughts that are pleasing to you. Remove the things from my life that cause me to take my eyes off of you. Lord, lead me in the way that draws me closer to you, that draws me closer to living the life that leads me to the way everlasting.
In Jesus' name, Amen.
---
Tiffany Thibault enjoys living life with her husband, two teenage daughters and one very large dog. She is a homeschooling, health nut mama, speaker and writer who loves to encourage others to grow closer to Jesus.
Want more Your Daily Prayer? We also have a podcast! This podcast is different than the written devotional you just read, but carries the same commitment to a closer look at Scripture each day. You can find out more by clicking the link below!
Now that you've prayed, are you in need of someone to pray for YOU? Click the button below!
Visit iBelieve.com for more inspiring prayer content.