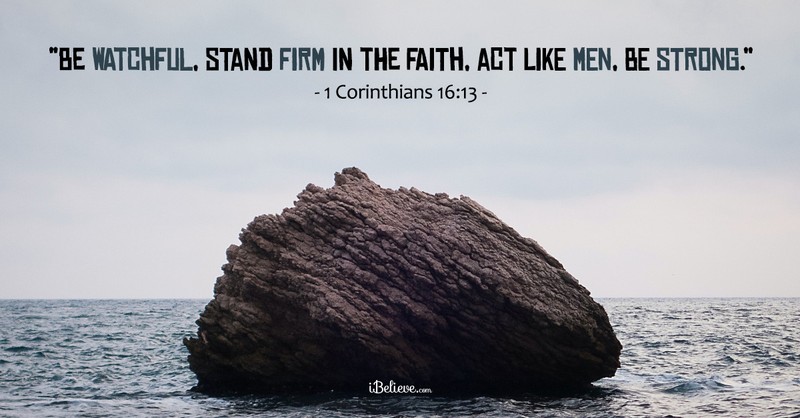 A Prayer for Our Boys to Grow Strong in Christ
By: Chelsey DeMatteis
"Be watchful, stand firm in the faith, act like men, be strong." - 1 Corinthians 16:13
I'll never forget the day I found out I was carrying a little boy in my womb. My heart burst knowing I was carrying a little boy who would one day become a man. God has entrusted to me a son to raise up to know how to love and lead his family. God entrusted me to teach him what God thinks of him, loves about him, and commands of him.
Now, you might be reading this thinking: Okay, that's great for you, but I'm not a mom of a boy, or, I'm not a mom at all. But, if I had to guess, there is a boy in your life through family or friendships. This means the Lord has also entrusted you with loving and leading a boy into godly manhood, too.
Our secular culture has made it a point to diminish men and the gift they are to this world. Boys are taught at a young age to suppress their strength, their tenacity, and their God-given designed ways of thinking. We see in 1 Corinthians 16:13 that the Lord commands, "Be watchful, stand firm in the faith, act like men, be strong." God made men to be strong and protective. He knit them to have a desire to lead and to be willing to fight for his family.
Instead of suppressing these things, we need to pray for them. We need to be praying that the boys the Lord has entrusted would grow up to honor God and obey His commands. We should be training up these boys to know that the way God knit them together was perfect and without error. We need these boys, who will one day be the men of this nation, to know that they are desired in this world.
Often, I find myself praying for my son to be a bold leader of men and a steadfast, unwavering follower of Christ. This is what our boys need. They need people pouring into them, praying over them, and leading them to what God says about them. They need those who shepherd them to remind them of who they are in Christ and that God handpicked them. They need to know that their confidence is rooted in God Almighty and that the world will never be able to strip them of His promises.
Our boys, who will grow up to be men, need to know that we are for them. We desire them. We want to honor them. Let's pray now for our boys to grow in stature with the Lord.
Pray with me…
Lord, thank you for all of the boys you've knit together. God, we pray that your Almighty hand would be upon them and that they would know who they are in Christ. I ask that you stir up in us, who have the honor of leading boys, a desire to teach them to be bold for the Kingdom of God. May they not for a second question the gift they are to this world. I pray they know when you created masculinity it was not by mistake but by divinity.
Thank you, Lord, for our men.
In Jesus's name, Amen.
---
Chelsey DeMatteis is a wife, SAHM, devotional writer, and the host of the weekly aired Living With Less podcast, birthed from John 3:30. Chelsey loves serving in her local church ministries, but the greatest ministry she loves to watch unfold is the one that happens in her heart and in her home. You can find more about Chelsey at her website - www.ChelseyDeMatteis.com.
Want more Your Daily Prayer? We also have a podcast! This podcast is different than the written devotional you just read, but carries the same commitment to a closer look at Scripture each day. You can find out more by clicking the link below!
Now that you've prayed, are you in need of someone to pray for YOU? Click the button below!
Visit iBelieve.com for more inspiring prayer content.