A Prayer for Perspective - Your Daily Prayer - September 12
A Prayer for Perspective
By Meg Bucher
"Now to him who is able to do immeasurably more than all we ask or imagine, according to his power that is at work within us." - Ephesians 3:20
When my little math whiz runs into a problem she can't easily solve, it sends her little Irish temper into overdrive. Perspective, "the way you 'see' things as a result of who you are and what you do," drives our daily lives. If we're operating under the wrong influence, we can travel for long distances before we run out of gas and wonder how we ended up broken down.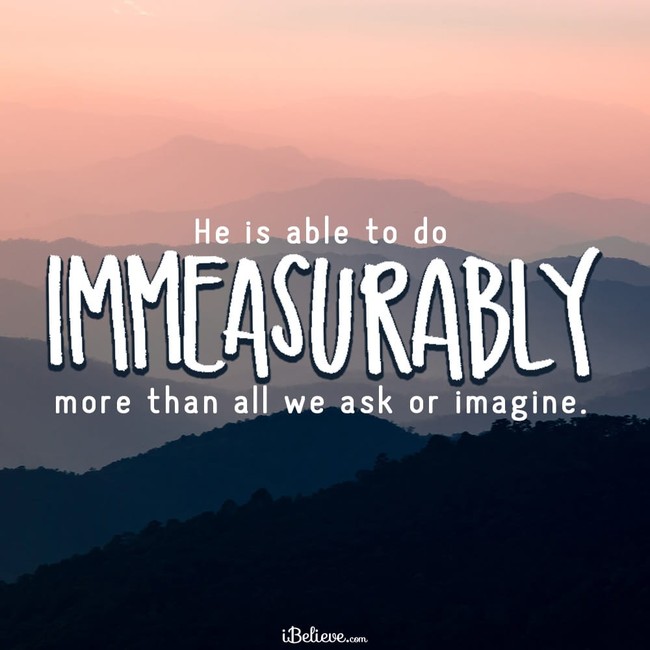 Sometimes, just like my little and her minor Math conundrum, we can let small detours completely derail us.
"Take your time and figure it out,"I often remind her, "you'll figure it out …you're really good at Math."
She will inevitably perk up a little as my compliments and encouragement sink in, but the hole in her Math paper remains as she tries to work around it to find the answer.
When minor mistakes and frustrations threaten to launch our temperaments into extremes, we can remind ourselves of the truth of this verse from Ephesians. Surely, our great God who is capable of all things, is not going to let a small mistake or frustration hold us back from the great life He has purposed for us. Not even a hole in our paper, or our plan.
My daughter wants to change the subject and move on quickly to the next part of her day once her Math homework is complete. It's not a bad strategy. Somethings are hard. We don't like to face them, work through them, or talk about them afterwards.
The great purpose of our life still lies in front of us. Embracing mistakes as we work through life's lessons help us choose to walk on a little stronger and smarter. "Immeasurably more" is not going to be stopped up by our minor mistakes. "The power at work within us," is the Holy Spirit. We can never ask for enough of that kind of power. It's by His strength we get stronger.
Father,
We praise You for the perspective that Your Word provides. We get caught up in our mistakes and failures so easily, giving them a foothold in the mountain of doubt that threatens to take us out and discourage us. But You don't look at our mistakes like we do. You never give up on us, teach us how to repent and live out consequences, and keep moving us forward and into the purpose You have specifically laid out for our lives.
Thank You for the sacrifice Jesus made for us on the cross, making Your Word accessible daily, to encourage and teach us. The Holy Spirit guides us and reminds us. You promise never to leave us, and to protect us with Your army of angels.
Forgive us for doubting your purpose, and for confusing mistakes to be disqualifications. When we skip time with You, remind us to be refueled and rejuvenated by Your Word. We need the sustenance of Your truth to operate properly in Your will. Help stretch our time and rearrange our daily agendas to put You above all.
Bless our lives to reflect Your love, and help us to develop patience and perseverance to navigate our mistakes with grace. We want Your will and Your plan for our lives. Bless us with Your perspective.
In Jesus' Name,
Amen.
Teach Us to Pray is a FREE prayer podcast hosted by iBelieve writer Christina Patterson. Each week, she gives you practical, real-life tips on how to grow your faith and relationship with God through the power of prayer. To listen to her episode on What to Pray in the Morning for a Worry-Free Day, click below!


Now that you've prayed, are you in need of someone to pray for YOU? Click the button below!
Visit iBelieve.com for more inspiring prayer content.