A Prayer for the Fire Seasons of Your Life - Your Daily Prayer - December 12
A Prayer for the Fire Seasons of Your Life
By: Lindsay Tedder
"Nebuchadnezzar then approached the door of the furnace of blazing fire and called: 'Shadrach, Meshack, and Abednego, you servants of the Most High God - come out!' So Shadrach, Meshach, and Abednego came out of the fire." - Daniel 3:26
Have you ever eaten raw chicken?
I hope not! I assume that you would never intentionally consume raw chicken. If you've ever had food poisoning, you know why you would never do such a thing.
We must cook our food to a certain temperature in order for it to provide nutritious value to our bodies and not cause us harm. Are we any different?
God is the chef, we are the raw chicken. He delicately prepares us for the journey to which He has called us. All raw chicken has to go through a "fire season" in order to provide us healthy nutrition.
We too, must endure a fire season of our own, in order to be prepared for our calling in Christ. The Lord must prepare us, stand with us in the fire, and get us ready for the life He has in store for us.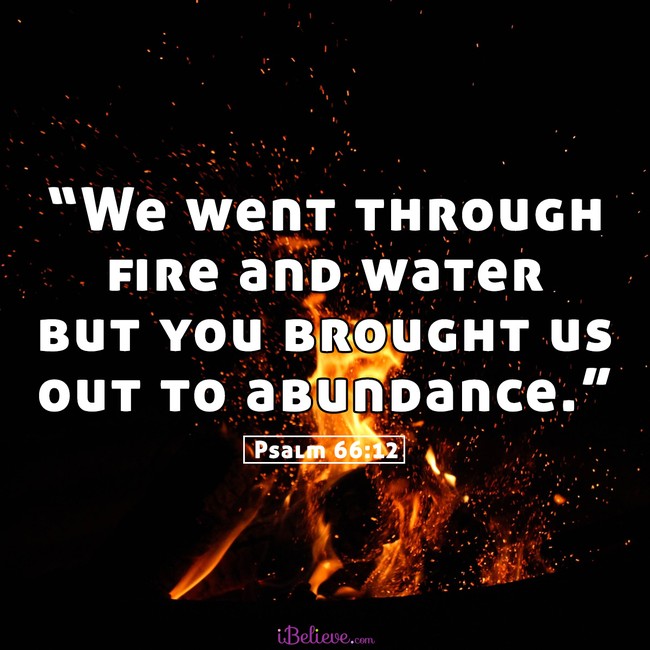 When King Nebuchadnezzar ordered all in his kingdom to bow down to the idol that he had fashioned, he expected all to follow his orders. To ensure they all would bow as he commanded, he threatened their lives. I believe the assumption was that if someone's life would be in jeopardy, they would do what he said.
When Shadrach, Meshack, and Abednego refused to bow down to the idol, they created quite an uproar in the kingdom. When word got back to the king, he had his men fire up the furnace seven times hotter than normal. He was determined to show these traitors his power. They willingly admitted their refusal to bow down to anyone other than the one true God. They were bound and carried to the fire. The fire was so hot that the men who were leading these three to the entrance lost their own lives as they threw them in the flames.
When King Nebuchadnezzar saw what appeared to be four men walking around in the furnace, he knew that their God was real. He saw it and he believed it. When he had them drawn out of the fire, they showed no signs of damage. They didn't smell, they weren't burned, they had not suffered at all; but they would never be the same.
Let's pray today for God to show up in our "fire seasons" – that though life may try to scorch us, God will see us through and use these times of trials and sufferings to make us into children who are more like him.
Lord,
Thank you for sending Shadrach, Meshack, and Abednego to be the forefathers of the fire season. Thank you for the visual, biblical, and historical example that the fire season is real. Thank you for the reminder in Psalm 66:12, "we went through fire and water but you brought us out to abundance."
I pray that my fire season isn't quite as intense as a literal fire, however, I know that if it is, there will always be another there with me. Lord, I know that everyone's fire season will look different and I pray that you use mine to prepare me for the journey you have ordained.
I know that no matter the fire, I will never be alone and I will never be the same. I pray to be brought from the fire into abundance. Lord, thank you for taking the time to prepare me for who you have called me to be. Thank you for the fire season, and I pray that I never underestimate its value.
In Jesus' Name,
Amen
---
Lindsay Tedder is a believer, wife, mom, bestie and writer who lives in Columbus, Ohio with her bearded, bourbon-loving husband and her too-cool-for-school toddler. She is full of raw honesty, enthusiastic authenticity, amiable compassion, humble grit, powerful passion…and outrageous laughter, double chins, real life, and frothy nectar-of-the-gods coffee…because…coffee. Raised by a hardworking single mom, she overcame such trauma as sexual abuse-induced food addiction, the debilitating health issues associated with endometriosis, a decade of infertility, and recurring life themes of worthlessness. Connect with her at www.LindsayTedder.com.
Teach Us to Pray is a FREE prayer podcast hosted by iBelieve writer Christina Patterson. Each week, she gives you practical, real-life tips on how to grow your faith and relationship with God through the power of prayer. To listen to her episode on What to Pray in the Morning for a Worry-Free Day, click below!


Now that you've prayed, are you in need of someone to pray for YOU? Click the button below!
Visit iBelieve.com for more inspiring prayer content.