A Prayer for Those Caught in the Gossip Trap - Your Daily Prayer - May 10
A Prayer for Those Caught in the Gossip Trap
By Meg Bucher
The fibers in my stomach began to fly off with my lunch as mud slung out of my smartphone speaker. For seven years, I had tried to find the good and lend an understanding nod, until God revealed my agreeability made me guilty of conspiracy. Afraid to come across as judgmental, I refused to weigh in directly.
Confidence at a high volume lofted a convincing argument on dishonesty's behalf, and a strangling hold on the hand of truth that threatened to lurch out of my stomach. I always found something positive to say about the person in vocal peril, but ran the risk of being directly associated with the entirety of the conversation.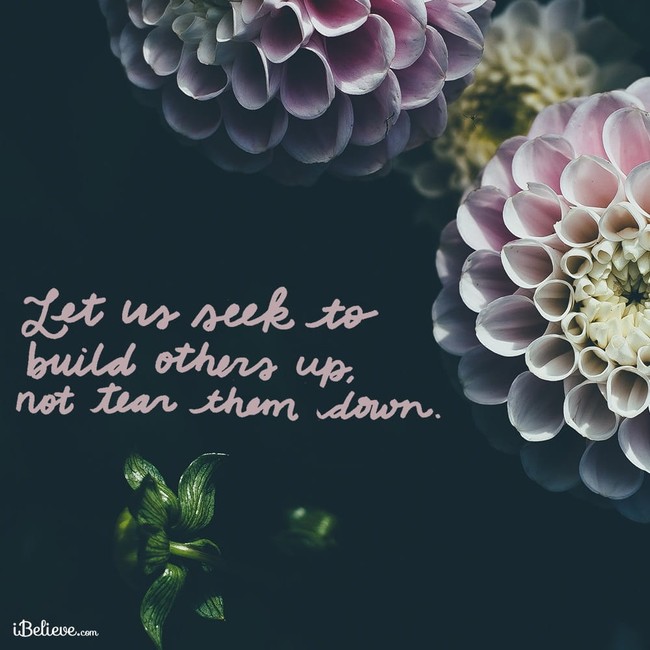 "Stay away from ungodly babbling because it will only lead deeper into a godless lifestyle." 2 Timothy 2:16 (VOICE)
Through the Holy Spirit abides in every Christian heart, and the uneasinesses I felt was a warning for me to evacuate that phone call. God is the protector of our hearts, alerting us to falsities that attempt to crack through the surface.
What is"ungodly babbling?" Paul warned of false teachers, whose grand assumptions illuminated a lack of knowledge. In 1 Timothy 1:4, he warns, "Tell them to turn away from fables and endless genealogies. These activities just cause more arguments and confusion."
Gossip operates on opinion. Faith is fueled by fact.
"Once these empty voices start to speak, Timothy, they infect and spread; and soon the body is consumed with its cancer." 2 Timothy 2:17 (VOICE)
The more we entertain gossip, the more likely we are to consider it. Aiming to operate in peace with someone by allowing them air out their opinion puts our hearts at risk for misaligned empathy.
"Instead, they should concern themselves with welcoming in and bringing about the reign of God, which is all about faith. " 1 Timothy 1:4b
Looking back, I had made room in my schedule to take that phone call, and it cost me. No one can force an ear-full of gossip upon us, yet we often let a guilt-filled, "good friend," status overcome our urge to hit"Ignore." When we pray for God to redirect the way we spend our time, He is faithful to answer.
"Our teaching about this journey is intended to bring us to a single destination—a place where self-giving love reigns from a pure heart, a clean conscience, and a genuine faith. " 1 Timothy 1:5 (VOICE)
When our minds are full of things we wish we didn't know about people, it threatens to taint our view of them. Christian life aims to see the God-placed strand good in everyone.
Gossip is rooted in lies or twisted truths. Even honest reporting has an undermined intention to throw its victim under the bus. It's deceitful, and one of the devil's favorite tools. Lying is his specialty, and he aims to "kill, steal, and destroy." (John 10:10) A stolen, destroyed, or annihilated reputation can emotionally destroy a person. We are to have nothing to do with those conversations(2Timothy 3:5b).
Those who fall into a pattern of speech that isn't rooted in the truth tend to be most convinced that they know what they are talking about. Don't be fooled. Motivated by a need to feed insecurity, their confidence is rooted in opinions.
A conversation that is focused on negative attributes and hearsay is never worth the time it takes to entertain. A godly friend will understand why we can't go there with them, and hold us accountable, too!
Father,
Praise You for godly friends who hold us accountable. Thank You for illuminating the deceitful power of gossip, that we all entertain within earshot daily.
Forgive us for listening to it instead of walking away. We confess that often we don't speak up out of fear of rejection, and pray that you help us to have the courage to honor others with kind words when their character is being publicly slain.
Bless and heal those who have been mangled by gossip, and others enslaved by its addictive habit. Heal our insecurities, and help us learn to turn to you for affirmation. Make us busy serving others in love to give You glory, instead of sitting in circles of babble and participating in chatter-filled phone calls. Empower us with Your Holy Spirit to head Your warnings, and steer our conversations with Your love.
In Jesus' Name,
Amen.
---
Meg writes about everyday life within the love of Christ on her blog, http://sunnyand80.org."Mom" is the most important calling on her life, next to encouraging others to seek Him first … authentically. A writer, dance mom, substitute teacher, youth worship leader/teacher and Bible Study leader, she can often be found having some kind of an adventure in the small little lake town where she resides with her husband of ten years, two daughters, and their Golden-doodle.
LISTEN to More Christmas Prayers on LifeAudio
Teach Us to Pray is a FREE prayer podcast hosted by iBelieve writer Christina Patterson. Each week, she gives you practical, real-life tips on how to grow your faith and relationship with God through the power of prayer. To listen to her episode on What to Pray in the Morning for a Worry-Free Day, click below!

Now that you've prayed, are you in need of someone to pray for YOU? Click the button below!
Visit iBelieve.com for more inspiring prayer content.