A Prayer for Vision
By Victoria Riollano
"What do you want me to do for you?" "Lord, I want to see," he replied. Jesus said to him, "Receive your sight; your faith has healed you." Luke 18:41-42
Lord, let me see again.
Tucked in Luke 18 is the story of a blind man who simply wanted to see. In the story, Jesus is walking by with a crowd of people. Hearing the commotion coming down the street, the blind man asks what is happening. He is informed that Jesus is walking past. Not knowing if he would ever get the chance to be face-to-face with Jesus again, he cries for the Lord.
So, he called out, "Jesus, Son of David, have mercy on me!" Those who led the way admonished him to be silent, but he cried out all the louder, "Son of David, have mercy on me!" Luke 18:38-39
I am always amazed at his response. When faced with opposition, he cried all the louder. Rather than being silenced, he knew that if Jesus was near, healing was available to him. He knew that Jesus could instantly restore his sight. With a word from Jesus, his life could be transformed forever. When he cried out, Jesus did not leave him in anticipation or disappointment. He responded.
Jesus stopped and directed that the man be brought to Him. When he had been brought near, Jesus asked him, "What do you want Me to do for you?" "Lord," he said, "let me see again." "Receive your sight!" Jesus replied. "Your faith has healed you." Luke 18:40-42
Out of all the requests in the Bible, this one feels so relevant. Although I've never been physically blind, I have experienced times when I felt like my vision was gone. Death of a loved one, betrayal from close friends, and disappointment within myself left me feeling sightless. I felt like I couldn't see God. Even more so, I couldn't see how He could still use me. Drowning in doubt, depression, and self-pity, the days ahead weren't something I looked forward to but something I dreaded. My hope had faded and without a word from the Lord, I am not sure where I would be today. I needed to reach a point where I saw myself and the Lord in a new and radical way.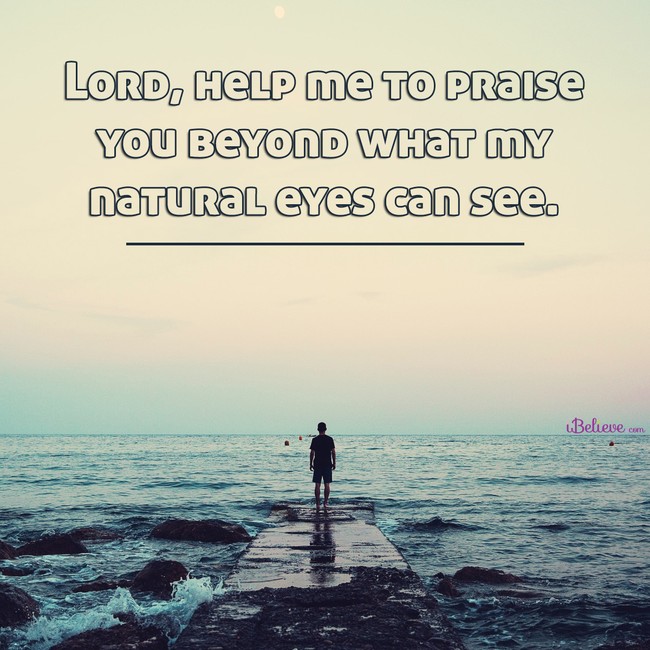 I needed the Lord to help me to see again.
I needed the Lord to help me to feel again.
I needed the Lord to teach me to believe again.
I believe the blind beggar felt the same. When the opportunity came, it didn't matter what anyone had to say, he knew he wanted to be restored. By faith, he cried out to God and believed for a miracle. Today, you may find yourself in this same scenario. You may find yourself frustrated by the circumstances and unsure of how to be set free from your affliction. I want to encourage you that God sees, and God knows. He is here to speak life into your situation and to bring healing.
He asks that you show up, ask for what you need and believe.
And it shall come to pass, that before they call, I will answer; and while they are yet speaking, I will hear. Isaiah 65:24
Dear Lord,
I thank you for that you are omnipotent. You have all power and glory in your hands. I thank you that you hear my cries and that you know exactly what I need. Father, I thank you for helping me to see again. Help me to see your heart, your plan, and your goodness. Even when I don't understand, help me to praise you beyond what my natural eyes can see. I trust you for every step.
In Jesus name. Amen.
---
Victoria Riollano is an author, blogger, and speaker. As a mother of six, military spouse, Psychology professor and minister's wife, Victoria has learned the art of balancing family and accomplishing God's ultimate purpose for her life. Recently, Victoria released her book, The Victory Walk: A 21 Day Devotional on Living A Victorious Life. Her ultimate desire is to empower women to live a life of victory, hope, and love. She believes that with Christ we can live a life that is ALWAYS winning. You can learn more about her ministry at victoryspeaks.org.
Want more Your Daily Prayer? We also have a podcast! This podcast is different than the written devotional you just read, but carries the same commitment to a closer look at Scripture each day. You can find out more by clicking the link below!
Now that you've prayed, are you in need of someone to pray for YOU? Click the button below!
Visit iBelieve.com for more inspiring prayer content.