A Prayer for When God Closes a Door
By Betsy de Cruz
"The steps of a man are established by the Lord, and He delights in his way. When he falls, he will not be hurled headlong, Because the Lord is the One who holds his hand." - Psalm 37:23-24, NASB
"If God didn't shut any doors, how would we know which ones to go through?" My friend challenged me with this question during a hard season, when our family was processing disappointment. My high school senior received a rejection letter from his dream university; months of hard work, extra tests, essays, and an interview all went down the drain, together with his hopes.
We usually think of God guiding our path by opening doors for us, but in reality, He also shuts them. When we don't get the job, our child doesn't make the team, or the deal on the new house falls through, our disappointment can leave us feeling discouraged.
Today's verse reminds us that in Christ, we can trust God to order and establish our steps. However, sometimes He also allows roadblocks on our path. In the margin of his Bible, next to Psalm 37:23, "The steps of a man are established by the Lord," 19th-century evangelist George Mueller made this note: "And the stops also" (Streams in the Desert, August 16).
If you're going through a season of obstacles, setbacks, and closed doors, remember that both your steps and your stops are ordered by God. Whether He opens or closes doors, God delights in leading you down the path He has marked out for you.
When God closes a door, you can trust He does it out of love. He has a better plan than you can imagine. You can also be sure God will open another door for you before long, and He is preparing you for whatever lies ahead. While you wait on Him to act, remember His faithfulness.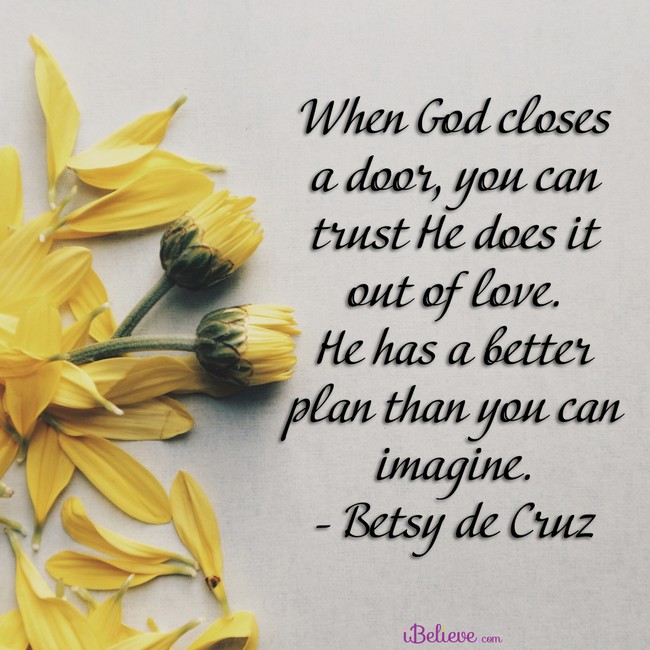 Take heart and remember God delights in your way. Even when obstacles cause you to stumble, He will hold your hand and steady your heart.
Let's pray:
Heavenly Father,
Even when I don't understand what you are doing in my life, I praise you for your faithfulness and power. When I feel disappointed, I will remember your steadfast love. Help me to trust that you are ordering my steps according to your perfect plan for my life.
You are my Faithful Shepherd; give me the grace I need to trust your leading. Thank you for the doors you open and for the doors you close.
Comfort and strengthen my heart today. When discouragement and doubt come, help me believe you have good plans to bring blessing into my life. Enable me to take courage as I wait on you to act in response to my prayers.
Lord, take me by the hand and lead me down the path that you have chosen for me. Show me when it is time to wait and when I need to move ahead. Thank you for your faithful and steadfast love. I will rest in it today.
In Jesus' name, Amen.
---
Betsy de Cruz helps overwhelmed women take small steps to invite more of God's presence and power into their lives. Connect with Betsy to get your free Quiet Time Renewal Guide and other resources at FaithSpillingOver.com. Her book More of God is a distracted woman's guide to more meaningful quiet times. After living in the Middle East for 16 years with her husband and two children, Betsy landed in Texas, where she still enjoys drinking chai with friends.
Want more Your Daily Prayer? We also have a podcast! This podcast is different than the written devotional you just read, but carries the same commitment to a closer look at Scripture each day. You can find out more by clicking the link below!
Now that you've prayed, are you in need of someone to pray for YOU? Click the button below!
Visit iBelieve.com for more inspiring prayer content.