A Prayer for When Life Is Hard - Your Daily Prayer - November 6
A Prayer for When Life Is Hard
By: Alisha Headley
"I have told you these things, so that in me you may have peace. In this world you will have trouble. But take heart! I have overcome the world." - John 16:33
I'm not sure why, but every time life throws me a curveball I didn't expect, or any form of affliction pops up in my life, I still act surprised. Maybe you can relate? It could be the stresses that come with managing everyday life between work and kids that make life hard for you. Perhaps its tragic news that a loved one has passed away, even though we know that we will all die one day. Yet, for some reason, it still seems to nudge us in the worst way when things in life are hard.
But the truth is: life is in fact hard.
In today's Scripture, Jesus reminds us of exactly that: He tells us in the world, you will have trouble. He didn't say, you might have trouble, nor did he say, you will never have trouble. No, He said you will have trouble.
The beautiful part of this Scripture is that He then tells us that we can have peace in this troubled world. We can take heart and be encouraged that He has overcome the trouble in this world.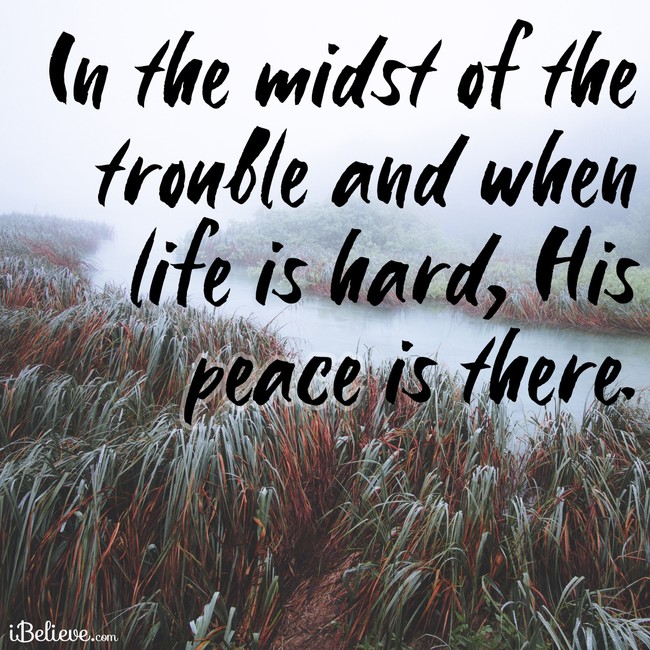 As believers, we don't have to live in a state of despair. We can find peace in Him knowing that the trouble we experience is not forever, as He has overcome all the trouble when he sacrificed His life on the cross. This troubled world only temporary.
He knows that life is painful. But he didn't leave us empty-handed. He left us with His peace. You can be sad. You can be angry. You can continue to act surprised. You can be confused. But you don't have reason to despair. Even if life at times is tragic and dark, do not despair.
In the midst of the trouble and when life is hard, His peace is there. Rest in this wonderful assurance.
Dear Lord,
Thank you that you left us with the Holy Spirit to comfort us in times of trouble. Thank you that we can run to you at any time and find peace this world could never provide. We ask that you remind us that when trouble comes, we don't have to walk it alone and walk in despair. For in you, we can find peace. In you, we can find comfort.
Life is hard and you remind us that in this life, there will be trouble. Thank you for the truth of your Word that we can stand on when life seems too hard. Thank you, Jesus, for bearing death on the cross, so that this world of trouble won't last for eternity. Although life is hard, we can walk in victory with you.
We pray that you would make our way peaceful and fill us with encouragement and hope. Give us a heart of wisdom to lean on you during times of trouble and not seek things of this world that leave us feeling empty. When life gets too hard, please remind us of your glorious promise.
In Jesus' Name,
Amen
---
Alisha Headley is a writer and speaker who has a desire to meet the everyday woman in her everyday life with biblical truth. Healing from a chapter of life consumed with lies she once believed about herself, she is inspired to point women to Christ to experience the freedom and power to overcome those lies with the truth written in God's word. Alisha is a proud wifey and dog mama living in Charlotte, North Carolina. You can follow her blog by visiting her website or connect with her on facebook + instagram.
Teach Us to Pray is a FREE prayer podcast hosted by iBelieve writer Christina Patterson. Each week, she gives you practical, real-life tips on how to grow your faith and relationship with God through the power of prayer. To listen to her episode on What to Pray in the Morning for a Worry-Free Day, click below!


Now that you've prayed, are you in need of someone to pray for YOU? Click the button below!
Visit iBelieve.com for more inspiring prayer content.