A Prayer for When Things Don't Go as Planned - Your Daily Prayer - March 26
A Prayer for When Things Don't Go as Planned
By: Kristine Brown
"In their hearts humans plan their course, but the Lord establishes their steps." - Proverbs 16:9 NIV
I had big plans. With our youngest child out of the nest, I began sorting through the many ideas I had for the next phase of life. What would all this newfound free time bring? The possibilities seemed endless.
Only, I never considered the word cancer to be on that list of possibilities.
Suddenly my anticipation for the weeks and months ahead took a drastic turn. Hopes for the next season didn't hold the same promise as all the things written in my planner. The adventures waiting for me to check them off one-by-one, now erased and replaced with treatments, doctor's appointments, and rest.
When the plans we've made in life change course, our feelings can also change. We trade our excitement and anticipation for dread or discouragement. But even in the hardest situations, God will offer blessings in the most unexpected ways.
Proverbs 16:9 tells us, "In their hearts humans plan their course, but the Lord establishes their steps."
Planning is important. The ability to chart a course for our future is a gift from God. We set goals and hold onto dreams, hoping one day we will be able to say we reached them. Yet so many times God will guide us in a new direction. One we never expected.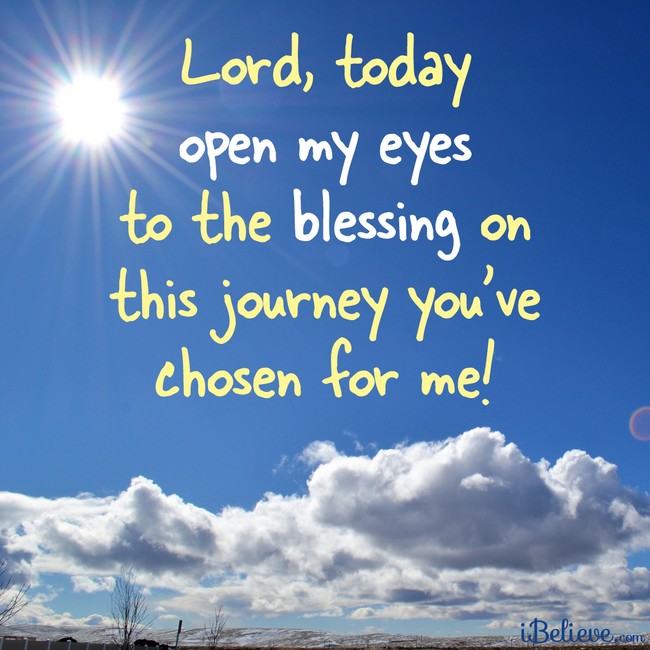 The steps he establishes for us may take us somewhere we never intended for ourselves. They may even take us somewhere we don't want to go. But we can be sure of this. God's blessings don't stop just because our circumstances change.
We can walk in assurance and live the abundance God promises, even when it looks nothing like we planned. The years I spent through cancer treatments and recovery have been the hardest of my life. And honestly, some of those adventures on my goal list had to be erased. But through this time God has blessed me with closer relationships, different priorities, and the chance to share my journey of restoration. Something I wouldn't trade for any plans of this world.
Let's thank God today for those times when things don't go as we planned. We can trust Him as we anticipate the steps he establishes for us.
Dear Heavenly Father,
Thank you for your guidance and direction. Because you are designing the path ahead of me, I have nothing to fear. I enjoy setting goals and having dreams for the future, but you know what's best for me. You are the author of my story.
Your Word says that you "establish my steps," even when I make my own plans. I may write things on my calendar, but I will also remain open to change when things don't go the way I expected. Help me to accept your path, even when it looks nothing like what I thought or takes me places I didn't want to go. Your ways are not my ways, and I trust you in all things.
Lord, today open my eyes to the blessing on this journey you've chosen for me. Help me see the truth of your promises. You will never leave me, and you have great plans for my future. In Jesus' name, Amen.
---
For more spiritual growth resources, check out this free email study from Kristine Brown, Walking with Hagar: A 5-Day Challenge for Following God's Plan. You'll find weekly encouragement to help you "become more than yourself through God's Word" at her website, kristinebrown.net. Kristine is the author of the book, Over It. Conquering Comparison to Live Out God's Plan, and the companion devotional for teens.
Teach Us to Pray is a FREE prayer podcast hosted by iBelieve writer Christina Patterson. Each week, she gives you practical, real-life tips on how to grow your faith and relationship with God through the power of prayer. To listen to her episode on What to Pray in the Morning for a Worry-Free Day, click below!


Now that you've prayed, are you in need of someone to pray for YOU? Click the button below!
Visit iBelieve.com for more inspiring prayer content.